Report: Ravens RB Ray Rice gets married one day after indictment
Ravens running back Ray Rice is a married man.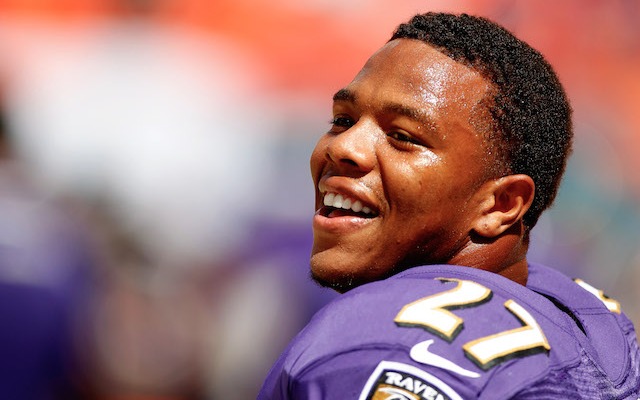 Ray Rice and his fiancee didn't let a simple indictment slow down their plans to get married. Despite the fact that Rice was indicted on a third-degree aggravated assault charge on Thursday, the couple still went through with their marriage plans. 
Rice and Janay Palmer were married on Friday night in a ceremony that had been planned for a 'couple weeks,' according to ESPN.com. 
The marriage comes about a month and half after a Feb. 15 altercation at a New Jersey casino between Rice and Palmer that led to both being arrested. According to the court summons from the incident, Rice allegedly hit his then-fiancee with his hand and knocked her unconscious.
Both Rice and Palmer were originally charged with simple assault-domestic violence, however, as of now, only Rice has been indicted. The aggravated assault charge Rice was indicted on is a more serious count than the original simple assault-domestic violence charge.
Rice could face three to five years in prison if he's convicted on the one charge.
Michael Diamondstein, Rice's attorney, issued a statement on Thursday saying that neither Rice or Palmer wished to move forward with the case. 
"We deny Ray Rice committed aggravated assault. Neither Ray nor (his fiancée) Janay Palmer wish to prosecute the matter. Ray and Janay are together. They're happy, and they're in counseling," Diamondstein said. "We believe that as a matter of law that Ray Rice did not commit aggravated assault. We ask only that the public reserve judgment until all the facts come to light."
CBS All Access allows viewers to stream every NFL on CBS game in their local market

CBS All Access allows viewers to stream every NFL on CBS game in their local market

Two NFC East divisional foes face off this weekend in a big battle for both teams
Owners and CEOs from several teams released statements in response to Trump's remarks in A...

Nick Kostos won big on Monday nights last season and gives his best 3-team NFL parlay for Week...

The Raiders are heading across the country for a showdown with the Redskins