Report: Saints could lose Jimmy Graham with non-exclusive tag
The Saints reportedly have placed the non-exclusive franchise tag on tight end Jimmy Graham.
• 1 min read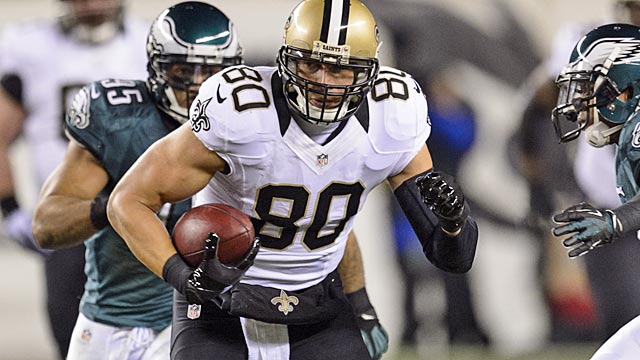 More NFL offseason: NFL Mock Drafts | Prospect Rankings | Top free agents
Not only have the Saints franchise tagged Jimmy Graham -- which will likely result in a fight about whether Graham should be classified as a tight end or a receiver -- but New Orleans reportedly has raised the possibility that Graham might not even play for the Saints in 2014.
That's because, according to ESPN's Chris Mortensen, the Saints have placed the non-exclusive tag on Graham, meaning another team could give New Orleans two first-round picks in exchange for Graham. Or the Saints could always match the contract terms of what somebody would offer Graham, keeping him safely on their own roster.
Two first-round picks, of course, would be a high-price to pay -- not to mention having to sign Graham to an expensive contract that they would have to negotiate with him -- but Graham also is one of the two best tight ends in the league, so somebody who needs an explosive presence on offense might think about doing a deal.
It seems unlikely, though, that Graham will play for anybody but New Orleans in 2014. A notion that CBSSports.com's Pete Prisco seconds.
Who in the right mind would give up two first-round picks for Jimmy Graham? Nobody

— Pete Prisco (@PriscoCBS) March 1, 2014
The big question remains how much Graham will be paid for doing so.
If the Saints are allowed to tag him as a tight end, he'd be paid about $7 million under the $133 million salary cap. If he was a receiver, he'd make about $12.1 million. While Graham lined up as a slot receiver about 2/3 of the time last year, he's still listed as a tight end.
Graham could file a grievance through the NFLPA to get himself reclassified as a receiver.
Even with the franchise tag placed on Graham, the two sides have until July 15 to sign a long-term deal. Unless somebody else thinks Graham is worth two first-round picks and is willing to pay more money than the Saints. Then, Graham could quickly find himself playing for a brand-new team.
Let's call it the Blair Walsh revenge game

Jeremy Lane also stood near Bennett along with pass rushers Cliff Avril and Frank Clark

Bennett also dedicated it to 'all of the other athletes using their platform to promote ch...
The Patriots quarterback shows commitment from Day One

Cardinals' running back says he's feeling more energized

The Vikings' receiver is wearing his heart on his foot