Report: Saints cut K Garrett Hartley, will sign Shayne Graham
Garrett Hartley is struggling through the worst season of his career. Now, he's unemployed.
• 1 min read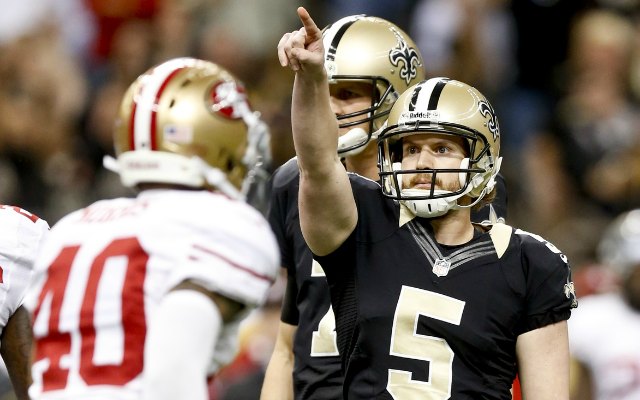 Two days after missing a 26-yard field goal that would have given the Saints a chance to make a furious comeback attempt vs. the Rams on Sunday, New Orleans cut kicker Garrett Hartley on Tuesday, according to multiple reports.
According to Foxsports.com, the team will sign veteran kicker Shayne Graham to take his place.
Hartley was in the midst of having the worst season of his career, making only 73 percent of his attempts. On Sunday, he missed the short field goal in the fourth quarter and had another blocked at the end of the first half.
"Listen, I think we're looking closely at every element," coach Sean Payton told reporters Monday. "You know, I told the players today in the team meeting we're looking closely at each aspect of this team. And not trying to read into my answer, I just think it's important for us to do that.
"Whether it's [the kicker], the tackle position, whether it's a player on defense, the one thing I know I don't want to do is just repeat the process over and over again. So we're gonna look closely at what our options are and what gives us the best chance as we get ready to play this coming week and then obviously one week remaining."
Previously this season, Hartley struggled through a rough November, and at one point, the team brought in five kickers, including Graham and Neil Rackers, to try out for Hartley's job. Obviously, the team kept Hartley instead.
But after Hartley's most recent struggles, the team has decided to bring in a new kicker as it tries to lock down the NFC South division title this week at Carolina. A corresponding move has not been made yet.
One of Hartley's brightest moments in New Orleans, of course, came when he kicked a game-winning 40-yard field goal to beat the Vikings in the NFC title game and send the Saints onto Super Bowl XLVI.
For that, he always will be remembered fondly by Saints fans.
Follow Josh Katzowitz on Google+
Wentz suffered a knee injury while diving for the end zone

Lewis among several coaches on hot seat, Cam's amazing run, and more from Week 14 in the N...

Here are the Week 14 grades for every team that played Sunday
All of the best highlights from Week 14 are right here

The legendary kicker added to his incredible career with a rare curveball XP

The Browns remain terrible, and fall to 0-13 on the season after going 1-15 in 2016