Report: Saints DC Rob Ryan needs haircut if he wants to be head coach
Saints defensive coordinator Rob Ryan would reportedly garner more interest for open head coaching positions if he was willing to cut his hair.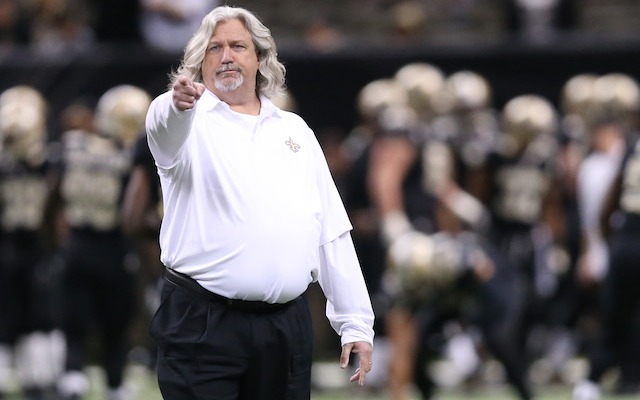 If Saints defensive coordinator Rob Ryan wants to be a head coach in the NFL, apparently all he needs to do is call his barber. ESPN's Chris Mortensen reported on Monday that the reason Ryan's not getting more consideration as a head coach this offseason is because some NFL executives don't like Ryan's long locks. 
"If he wants to be a head coach, he has to cut his hair," Mortensen said several executives told him, via FoxSports.com. "It is about image for these guys. They want a CEO-type. That's what they want."
New Orleans coach Sean Payton doesn't seem to bothered by Ryan's flowing hair. Payton hired Ryan as the team's defensive coordinator back in February and said this week that he thinks Ryan will eventually be a head coach.  
"Obviously he's a coach that I think is going to be a head coach," Payton said, via ESPN.com. "Obviously we made great improvements from a year ago. He brings an enthusiasm with him, a personality that is contagious. You know, he's a great staff person as well, gets along with the coaches."
All Ryan did for the Saints this season was take the worst defense in NFL history -- the 2012 Saints defense gave up the most yards of any team ever -- and he turned them into the NFL's fourth-ranked unit. Under Ryan, the Saints defense also improved from 31st to fourth in points surrendered. 
If Ryan's wondering what a nice haircut can do for you, he just needs to call his brother Rex. Rex gets his haircut once in awhile and has lasted as the Jets coach for five seasons. 
Jackson is deciding between Brock Osweiler, Cody Kessler, and DeShone Kizer

The Giants star receiver says he hopes his sprained ankle isn't serious after a scary hit Monday...

The Giants got a scare in the second quarter against the Browns
Welcome to the NFL's version of a dress rehearsal

The Browns protested the anthem on national television

Beckham passed tests for a concussion but the Giants will do more tests on his ankle