Report: Saints re-sign kicker Shayne Graham to one-year deal
The New Orleans Saints re-signed kicker Shyane Graham and right tackle Bryce Harris. Both players agreed to one-year deals with the team.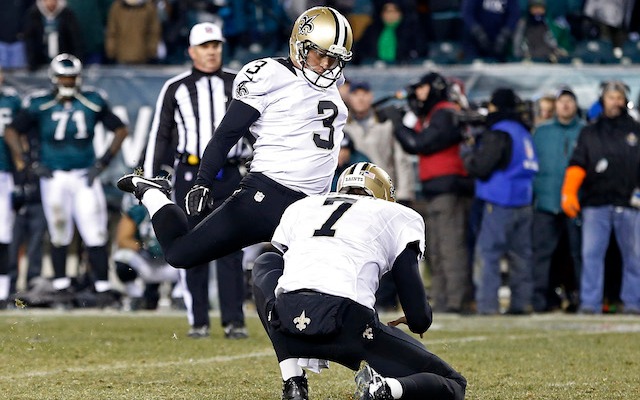 New Orleans has one Graham under contract for the 2014 season, but it's probably not the one Saints fans were hoping for. Kicker Shayne Graham has re-signed with the team, according to the New Orleans Times-Picayune. 
Graham's contract is for one year at the 10-year veteran minimum of $955,000. The journeyman kicker has been in the NFL since signing with the Bills in 2001. Graham has scored points for nine different NFL franchises in his 13-year career.
The Saints originally signed Graham in December after the team cut Garrett Hartley. Graham played in a total of four games for New Orleans in 2013. Two of those games came in the regular season and the other two came in the postseason. 
The 38-year-old kicker played a large part in New Orleans 26-24 wild-card playoff win over Philadelphia. Against the Eagles, Graham went 4 for 4 on field goals, including a game-winning 32-yarder that gave the Saints their first road playoff win in franchise history. 
Graham's success in Philadelphia didn't carry over to the divisional round though. In the Saints 23-15 loss to Seattle, Graham missed two field goals (45, 48). 
As for the other Graham, the Saints tight end was asked this week about where contract negotiations currently stand. "I'm just going to wait and see what happens because that's where it's at," Jimmy Graham said. 
The Saints also re-signed right tackle Bryce Harris to a one-year deal. Harris saw action in all 16 regular season games for New Orleans in 2013 and made one start.
The former Wyoming QB would welcome the chance to rescue the Browns from their pit of mise...

Baker Mayfield and Josh Allen took the field, but RBs and defensive front seven players stole...

Joseph cited Drew Brees when explaining why he's not concerned about the Oklahoma quarterb...
'She was dead serious,' Feely said

Place your bets, you proud and degenerate Americans

The Lions fired Jim Caldwell and kept some assistants in place, so Patricia is setting his...