Report: Saints still offering Jimmy Graham $9.5 million per year
Even though they won a ruling against Jimmy Graham, the Saints still have an offer on the table that would make Graham the NFL's highest paid tight end.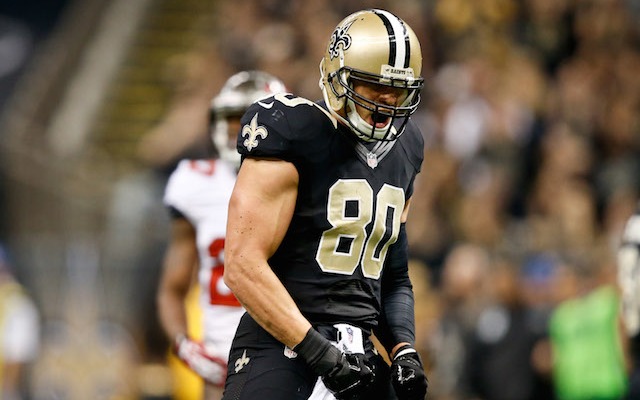 Just because an arbitrator sided with the Saints doesn't mean the team is changing its negotiating tactics with Jimmy Graham. According to ProFootballTalk, New Orleans has made Graham a $9.5 million-a-year offer that would make him the highest paid tight end in the league. 
That's the same $9.5 million deal that the Saints were offering before July 2, when arbitrator Stephen Burbank ruled that Graham would be paid as a franchise tight end and not a wide receiver. 
The $9.5 million offer is well below the $12.312 million per season Graham would have made as a franchise wide receiver. However, it's well above the $7.035 million Graham would make in 2014 if he signs his franchise tender.
The $9.5 million offer would also make Graham the NFL's highest paid tight end, an honor that currently belongs to New England's Rob Gronkowski, who signed a six-year, $54 million deal in June 2012.  
Guaranteed money will also come into play in Graham's deal and the Saints tight end might be hoping to approach Vernon Davis' 2010 number. The 49ers tight end says he received $23 million in guaranteed money when he signed his deal four years ago. Coincidentally, Davis is also holding out for a higher contract. 
If Graham were to play under the franchise tag in 2014 and 2015, he'd make a total of about $15.5 million, so you can expect that to be the floor for any possible long-term contract. 
CBSSports.com's Will Brinson wrote on Wednesday that the Saints should 'bump up Graham's contract to $20 million guaranteed over the course of a five-year deal and give him $45.5 million over the life of the contract.' 
That's good money, but it's not wide receiver money. Former Falcons tight end and current CBS Sports analyst Tony Gonzalez explained the problem with that in a column on Friday. 
From Gonzalez:
I anticipate [Graham] will sign somewhere in the neighborhood of $10 million per year over five years, which is great money. But an elite wide receiver will make $14 million-$16 million per season. Let's say we even round down and give that receiver $13 million a year over the same span of five years; Jimmy Graham will miss out on $15 million as a tight end that he would make if classified as a receiver. Let's not forget that Graham is young and could easily play another 10 years, which means the same thing could happen to him for his next contract. He would miss out on that same $15 million again.

That is $30 million he won't get because he's called a tight end and because the NFL slots salaries based on position names instead of by production. So in light of Wednesday's decision against Jimmy Graham, it's not just a loss for him but a loss for every player that wears the shield.
If a contract's going to happen, Graham and the Saints will have to figure out something quickly. The two sides only have until July 15 to hammer out a long-term deal. 
Salary deferrals make identifying most lucrative contracts from year-to-year complicated

The Titans' best player has had the worst season of this NFL career in 2017

By 2018, Dalton's price tag will be too expensive, so the Bengals pick Baker Mayfield to usher...
The offensive line, run game, and receivers have been worse as well

Quin now spends his free time reading books and hanging out with his family

Here are the 12 teams we are projecting to make the NFL playoffs heading into Week 15