Report: Seahawks might add 2K-3K seats at CenturyLink Field for 2014
There might be a few more fans at Seattle home games next season. The Seahawks are considering adding 2,000 to 3,000 seats at CenturyLink Field in time for the 2014 season.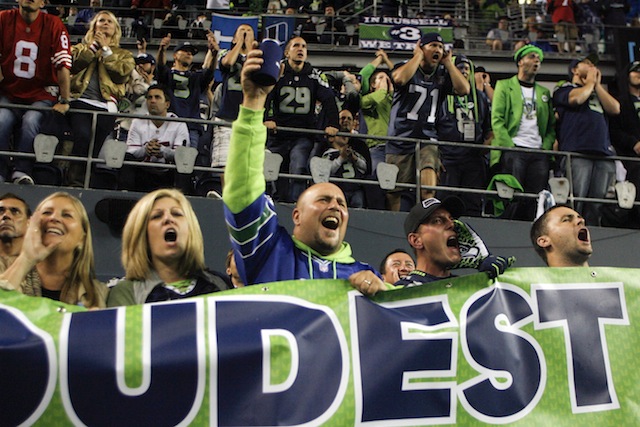 Not satisfied with just setting Guinness World Records, the Seattle Seahawks are out to make their homefield advantage even more of an advantage and they're going to do that by adding more people. The Seahawks are considering adding 2,000-3,000 seats at CenturyLink Field for the 2014 season, according to FoxSports.com.
The additional seating would push CenturyLink Field's capacity to just over 70,000. 
The decision isn't final yet, but if the team does go through with the plans, the additional seats might be metal bleachers. Fans can stomp on metal bleachers to make more noise, which is perfect for Seattle because the goal for fans at every Seahawks game seems to be 'make as much noise as possible until the other team is rendered deaf.' 
The Seahawks have won 10 straight games at home dating back to the team's 2012 home opener. The last time the Seahawks lost in Seattle was on Dec. 24, 2011. 
Additional seats at CenturyLink Field would be good news for a Seahawks fan base that bought all 62,000 season-tickets the team sold in 2013. Seattle currently has a season-ticket waiting list of over 12,000. 
If the Seahawks do add seats though, you can probably expect to see more letters like this written by 49ers fans and sent to their local newspapers:
Was anyone else appalled by the unsportsmanlike conduct of the Seattle Seahawks and their fans, juiced on noise, which surely creates as big an advantage over an opponent as any performance enhancing drug and which, to their shame, NFL officials turn the same blind eye they have to concussions and drugs ("Seattle states case loudly, clearly in rout," Sports, Sept. 16)?

It would be simple to fix. Seahawks players and managers would ask their fans to cease and desist, and the NFL would implement a new rule: The visiting team may stop the game when fan noise is greater than a specified decibel level, and should this rule be violated in more than three games, no home games will be played at the offending field for the rest of the season, including playoff games. Things would quiet down.

At a time when the world seems sour, sports give us a place of joy, community and hope, and to have it spoiled is a bigger loss than it seems on the surface.
Not the best look for Primetime

Slater has been one of the most consistent special teams performers since he entered the league...

The stud defensive tackle is visiting Oakland after a stop in Los Angeles
The Bills make a big move to get to No. 2, and the Giants hop back into the top 10 after moving...

Keep up with the latest moves in free agency as teams try to build a Super Bowl contender

Everything from Kirk Cousins' game changer to Gronk's grumpiness to Chase Daniel's charmed...