Report: Some close to Josh Gordon think 1-year ban could end career
A year-long suspension for Josh Gordon could be devastating for the Browns receiver.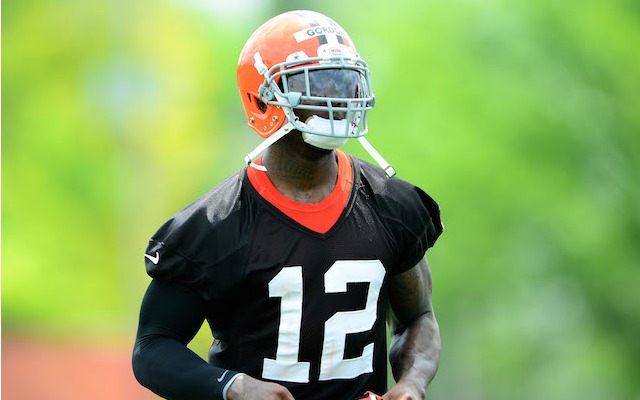 The NFL hasn't officially suspended Josh Gordon yet, but if the Browns wide receiver gets a one year suspension, people close to him believe that kind of ban could end his career, according to the Cleveland Plain Dealer. 
Gordon has known since at least May that the league plans to suspend him. The Browns should know by late July what kind of suspension Gordon will be facing in 2014 and if it's a one-year ban, things could get ugly. 
A one-year suspension would mean Gordon has to stay away from the team's facilities all season and that's where the concern comes in.  
From Cleveland.com:
Sources close to Gordon have told Cleveland.com they're concerned that if he's away from the team for a year and away from his support system, that he'll have a tough time making it back into the NFL. The sources point to Jaguars receiver Justin Blackmon, the former first-round pick, who was suspended indefinitely in November of 2013 for violating the substance abuse policy and isn't expected to be re-instated in 2014.
Blackmon's situation isn't exactly like Gordon's but it's similar. Blackmon was suspended for the first four games in 2013 before failing a second drug test and missing the final eight games of 2013 due to suspension. 
Jaguars general manager David Caldwell has said the team doesn't expect Blackmon back for 2014. 
Gordon received a two-game suspension to start the 2013 season and was docked a total of four game checks last year.
However long Gordon's out, the Browns will miss him. Despite missing the first two games of 2013, Gordon still totaled 1,646 receiving yards last season, a total that led the league. 
The young head coach took the blame after a heartbreaking loss to the Eagles

Our computer model simulated every Week 15 NFL game 10,000 times with very surprising resu...

Britt is going from the worst team in football to a Super Bowl contender
With three weeks to go in the regular season, the MVP race is wide open

The Eagles are sticking with Nick Foles

We all deal with devastation in different ways