Report: Some Cowboys soured on Greg Hardy by the end of the season
Greg Hardy was perpetually late for meetings and received no punishment in terms of his playing time, so teammates that initially supported him no longer did so.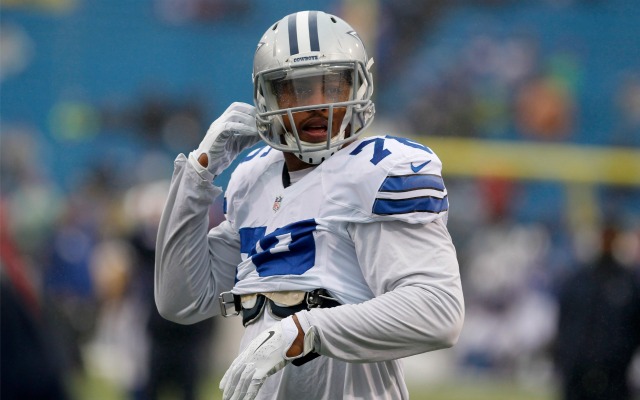 We don't know yet whether Greg Hardy is long for Dallas. Hardy signed a one-year, incentive-laden deal with the Cowboys for the 2015 season, one that guarantees the team cannot use the franchise tag on him this offseason. That means if the defensive end is to stick around with the Cowboys, the sides will have to come to a mutual agreement on a deal.
We know Hardy wants to return. "I look good in blue and white, let's be honest," Hardy said, per the Dallas Morning News.
Hardy also said he believes he took full advantage of his opportunity in Dallas this year. "I believe so," he said. "I believe it's the perfect timing for me just coming to a place that was accepting and coming to a place that let me play and do my thing and be personable and be reasonable for me and with me and help me change my life and change the world."
We don't know at this point whether the Cowboys want him back. We do know that after Hardy served his four-game suspension (as a result of his alleged -- and trust me, I hate that I have to type "alleged" here -- domestic violence incident), he came back and recorded six sacks in 12 games, failing to reach the threshold that would have triggered additional salary incentives. We also know that while he was on the field and in the locker room for the Cowboys, he apparently became a "constant headache" for head coach Jason Garrett, thanks to that Morning News report.
Along the way, Hardy became a constant headache for Jason Garrett. The Cowboys coach met with him at least four times to address his conduct.

Hardy became such a worry over the last month of the season that the club increased its involvement, providing a more active support staff to check in on him, a source said.

A few teammates who had supported Hardy early began to sour on him late in the season, in part because his perpetual tardiness for team meetings never resulted in a reduction of playing time. Tardiness was also an issue for Hardy with his previous teams.

Hardy was in for more plays than any other Cowboys defensive end in 11 of his 12 games. On Thanksgiving, Demarcus Lawrence played one more snap than Hardy against Carolina. Even after the Cowboys had been eliminated from playoff contention, Hardy played more than any other defensive end in the final two games against Buffalo and Washington.
That sounds like basically the opposite of what Hardy himself said about his time in Dallas. There's nothing about him being personable or reasonable or "changing the world," at least.
That version of events also doesn't reflect all that well on Jason Garrett and/or Rod Marinelli and/or Ben Bloom and Leon Lett (who coach the defensive line), who constantly preach accountability. If Hardy was allowed to skate by without punishment for showing up late to meetings (and pulling all the other various nonsense he did throughout this season), but other players were cut for reportedly not wearing suits on the team flight, of all things, what does that say about the coaching staff and what accountability really means?
In the end, Hardy sure seems like a guy that's a heck of a lot more trouble than he's worth, especially if he plays the way he did over the second half of the season as opposed to how he did early on. With the Cowboys having Lawrence and Randy Gregory on the edge, plus Tyrone Crawford at defensive tackle and the No. 4 pick in this year's draft with which to potentially add even more talent, they might be willing to move on from Hardy and feel pretty decent about their defensive line.
The Lions cruised to a victory but will need to win out to have any chance of reaching the...

Here's every official injury designation for each NFL team for Week 15

This might go down as the best catch of Week 15
Our computer model simulated every Week 15 NFL game 10,000 times with very surprising resu...

Ryan Shazier and the Steelers were the big winners in Pro Bowl voting that was unveiled on...

We've likely seen the last of Reggie Bush in the NFL