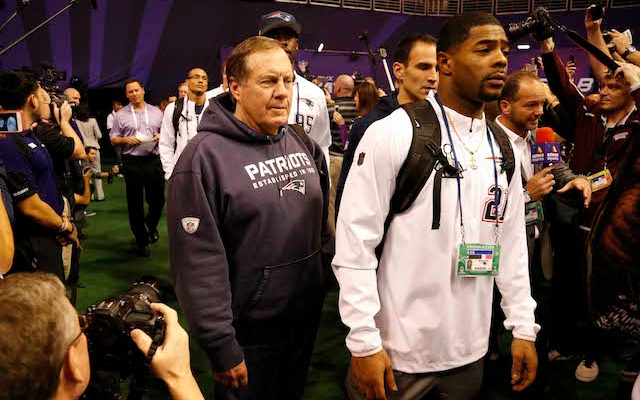 Patriots cornerback Malcolm Butler played the part of Super Bowl hero in February when he sealed New England's Super Bowl win by picking off Seahawks quarterback Russell Wilson at the 1-yard line, late in the fourth quarter. 
That probably seems like forever ago though, because right now, Butler's the main tenant in coach Bill Belichick's doghouse. 
According to the Boston Herald, Belichick made the decision to bench Butler for the team's OTA sessions after Butler was late for the Patriots first OTA on May 26.
The cornerback didn't make it to practice on time because his May 25 flight was canceled due to weather issues, an excuse that obviously didn't sit well with Belichick.
Belichick reportedly expects his players to give themselves ample time when they're flying, mainly because weather issues do happen -- especially in the New England-area. 
After Butler showed up late, he was forced to sit out the team's May 26 session and also the seven sessions after that (May 28-29, June 1, June 3-4, June 8-9).
It doesn't look like the punishment is going to last forever though: The Herald is reporting that Butler will likely be allowed back for the Patriots final OTA session that begins on Thursday. The team also has a mandatory minicamp that runs June 16-18. 
Although Butler hasn't been allowed to participate in OTAs, he has been allowed to sit in on film sessions and attend meetings. 
Belichick can be ruthless at times, but a three week ban for a guy who just won you a Super Bowl ring seems extra ruthless, even for Belichick. 
Personally, if Butler won me a Super Bowl ring, I'd let him run OTAs because I'd be too busy polishing the Super Bowl ring he just won me.