Report: Teammates considered Incognito 'an honorary black man'
According to the Miami Herald, we might have a reason why it seems Richie Incognito's Dolphins teammates have supported him.
• 1 min read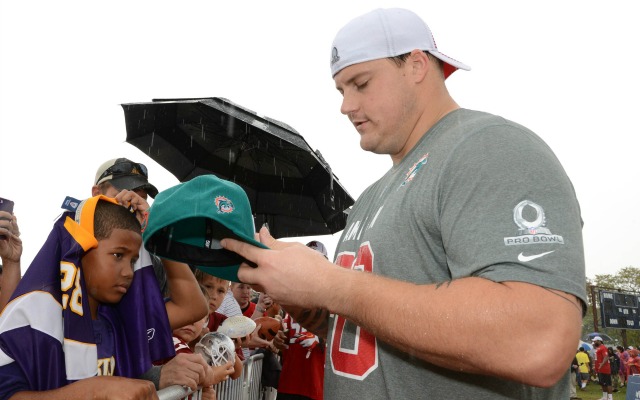 Ever since suspended Dolphins guard Richie Incognito was accused by tackle Jonathan Martin of threatening him with racist and fecal matter-themed voice messages, it might have surprised the public that Incognito's teammates seemed to have sided with Incognito more than the victim of his apparent bullying.
For example ...
"I like both of them," Dolphins receiver Mike Wallace said this week. "I love Richie. I think he's a great guy. I don't think he was out of hand. I have a lot of respect for Richie. I wish he was here."
Now, the Miami Herald has an interesting story that could help explain his support. In the article, the newspaper claims that the locker room considered Incognito "an honorary black man."
Here's how the paper's Armando Salguero explained it:
I've spoken to multiple people today about this and the explanation from all of them is that in the Dolphins locker room, Richie Incognito was considered a black guy. He was accepted by the black players. ...

And Jonathan Martin, who is bi-racial, was not. Indeed, Martin was considered less black than Incognito.

"Richie is honarary," one player who left the Dolphins this offseason told me today. "I don't expect you to understand because you're not black. But being a black guy, being a brother is more than just about skin color. It's about how you carry yourself. How you play. Where you come from. What you've experienced. A lot of things."
On the other hand, Martin reportedly was considered soft and that his well-to-do education at Stanford and his successful parents were perhaps looked down upon by his black teammates. Writes Salguero, "It perpetuated in the way Martin carried himself."
As for Incognito, he's simply trying to get himself through the day.
"You know what, I'm just trying to weather the storm right now," Incognito told a local Fort Lauderdale TV station Tuesday. "This will pass."
Follow Josh Katzowitz on Google+
Everything you need to know about the AFC and NFC title games

The Patriots are looking to win back-to-back Super Bowls but will have to take out the surprising...

Gronk is one of the toughest players to defend in the NFL, so how will the Jaguars handle...
CBS All Access allows viewers to stream every NFL game on CBS in their local market

It wasn't the matchup that we expected, but the Jaguars would argue that's everyone else's...

Pete Prisco reveals his spread and total best bets for Sunday's AFC and NFC Championship g...