Report: Texans exercise fifth-year option on J.J. Watt's rookie deal
J.J. Watt will be in Houston thru at least 2015 after the Texans picked up the fifth-year option on his rookie contract.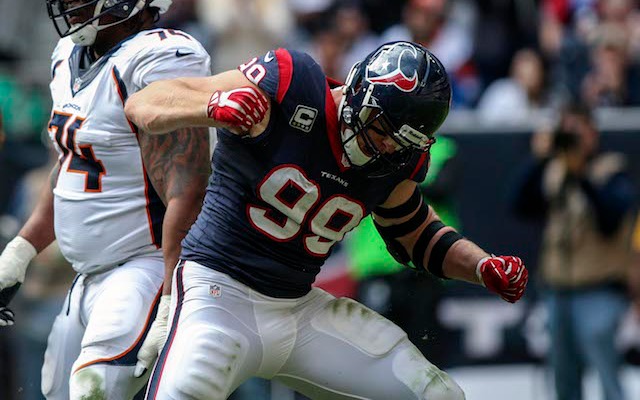 The Texans have a tough decision to make on May 8: They have to decide who to take with the first overall pick in the NFL Draft. On Thursday though, they got to make an easy decision. The team officially exercised the fifth-year option on J.J. Watt's rookie contract, according to ESPN.com.
Watt was the 11th overall pick in the 2011 NFL Draft, which is important to remember because members of the 2011 draft class were the first ones who signed a rookie contract under terms of the most recent collective bargaining agreement.
Under terms of the CBA that was passed in 2011, all drafted players are signed to a four-year contract. However, players drafted in the first-round have a team option for a fifth-year included in their contract.
Each NFL team has until May 3 to exercise the 2015 option on any first-round draft pick from 2011.  For players selected in the top-10 of the 2011 draft, the option means they'll be paid the transition tender from the fourth-year of their deal. For instance, the transition number for a quarterback in 2014 is $14.67 million. Once the Panthers officially hit Cam Newton with the fifth-year option, that's how much he'll make in 2015.
For players like Watt, who were drafted between 11 and 32, they'll get paid the average of the top-25 players at their position, not counting the top-3. Basically, the Texans will be getting Watt at a bargain for the next two seasons. Watt will be paid $6.97 million in 2015, according to the Baltimore Sun.
The 2012 NFL Defensive Player of the Year has 36.5 sacks over the past three seasons. Only DeMarcus Ware (37), Robert Mathis (37), Aldon Smith (42) and Jared Allen (45.5) have more in that span.
The city of Houston probably won't mind Watt sticking around, because over his three years there, he's been doing things like this.
JJ Watt just stays awesome RT@JJWatt The kids at Trey's school didn't believe that we were friends... http://t.co/DwKVxeS5pI

— Lara Hall (@producerlara) April 16, 2014
Here's an up-to-date look at the 2018 Pro Bowl roster

New England is 3-0 wearing white in Super Bowls under Bill Belichick

Bettors are favoring the Eagles to keep Super Bowl LII close, but the Patriots remain clear...
No one wants to give the Eagles any respect

The three-time Grammy winner will sing before Super Bowl LII on Feb. 4

Here's a look at the NFL's entire postseason schedule for 2018