Report: The Eagles didn't tell their players they fired Chip Kelly
Chip Kelly reportedly didn't meet with the team after getting fired.
• 1 min read
The Eagles announced Chip Kelly's dismissal by tweeting out a link to a story Tuesday night. It turns out, that's reportedly when many of the Eagles players found out about the franchise's decision to fire their head coach.
According to Eliot Shorr-Parks of NJ Advance Media, the team did not inform the players about Kelly's firing before announcing the news to the public, and Kelly did not have a chance to meet with the team. Members of the Eagles heard about the news the way the entire world found out: "Twitter, reporters and other teammates."
#Eagles did not tell the players that Chip has been fired. One just found out when I reached out to him for comment. "Damn. For real?"

— Eliot Shorr-Parks (@EliotShorrParks) December 30, 2015
As expected, not every player reacted positively upon hearing the news.
#Eagles player reaction to Chip being fired: "I'm pissed". Had no idea it was coming.

— Eliot Shorr-Parks (@EliotShorrParks) December 30, 2015
In Kelly's three seasons, he won 26 games and lost 21, including delivering consecutive 10-win seasons and one playoff berth. But the team unraveled in 2015, going just 6-9 and criticism mounted, mainly due to the many personnel moves that backfired on Kelly -- most notably the decisions to trade LeSean McCoy and sign DeMarco Murray this past offseason. When the Eagles shipped McCoy to the Bills, Kelly did not call McCoy to inform him of the trade, which Kelly later acknowledged was a mistake. Clearly, communication isn't the Eagles' strong suit.
"It's a business," one unnamed player told NJ Advance Media.
Nobody understands that better than Chip Kelly right now.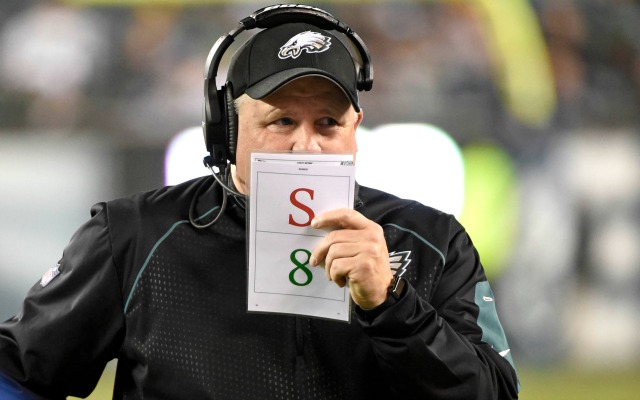 This might go down as the most expensive snowstorm of Adam Vinatieri's life

The Cowboys unveiled a new look on Sunday and their fans seemed to love it

Conquerors of adversity in 2017, the Eagles are still on the fast track to claiming the NFC's...
Cord-cutters are probably going to like this new deal between the NFL and Verizon

Stephen Oh has his finger on the pulse of Bill Belichick's team and just locked in a strong...

Savage left the game before returning after just one series