Report: Tim Tebow's camp believes NFL career might be over
Although Tim Tebow apparently is still trying to get an NFL quarterbacking job, his camp reportedly believes his NFL career might be done.
• 2 min read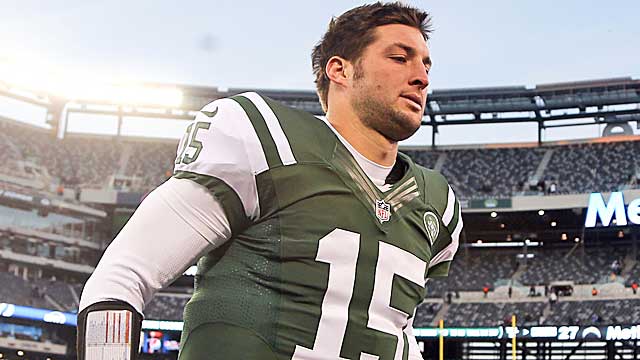 We haven't heard much from Tim Tebow recently. Well, let's put that another way. We haven't heard much news about the possibility of Tebow continuing his pro football career. OK, let's amend that one more time. We haven't heard about the continuation of his NFL career.
And there might be good reason for that.
In part, it's because members of Tebow's camp privately told ESPN's David Fleming that they realize his NFL career is probably over.
As one scout told Fleming, "He's not a quarterback. When you look at his run two years ago, when you watch the tape and break it down, he wasn't really doing anything that impressive. He's a tough guy, a great leader, a great person. But he isn't a good enough quarterback to have all the distractions that come with him."
The Jets discovered that last season when they traded for him either to 1) make a splash in the New York City tabloids or 2) attempt to throw some fear into Mark Sanchez.
Even though Tebow inexplicably led the Broncos to the 2011 playoffs (a run that looks more inexplicable by the day), Denver had no problems sending him to New York, where Tebow (intentionally or not) created a huge quarterback controversy that helped implode the Jets squad and helped lead to the departure of general manager Mike Tannenbaum.
And it became clear that Tebow was no better than a backup quarterback. If that.
Still, the NFL Network's Ian Rapoport says a source tells him that Tebow isn't yet giving up on his career.
More from Fleming's interesting piece:
As a kinesthetic learner, Tebow absorbs information better through using flash cards and hands-on repetitive experience than the traditional method of memorizing diagrams, notes and Polaroids from a playbook. That doesn't mean Tebow isn't smart or that he couldn't develop into a brilliant, quick-thinking quarterback. It just hasn't happened yet.

When the Broncos defense was on the field, offensive coaches would often tell Tebow the first series of plays they wanted to run when the team got the ball back. Tebow would nod, and they'd separate. And then, invariably, a short while later he'd ask for the information again. Sometimes this ritual would repeat right up until Tebow had to duck into the huddle and call the play. … Worse still was the fact that, according to scouts, Tebow almost never audibled because he struggled to quickly and properly read defenses. And of all the deadly sins Tebow committed against quarterbacking, this was the worst: lacking the self-awareness to recognize and fix these shortcomings.
There's no question Tebow is a polarizing figure who likely will be the first player since Bob Lee to win a playoff game, remain on an active roster into at least the next season, and never start another NFL regular-season game.
But say this for Tebow: Maybe he's not a legit NFL quarterback, but the ride he took us on during the second half of the 2011 season was unforgettably fun.
Here's an up-to-date look at the 2018 Pro Bowl roster

Bettors are favoring the Eagles to keep Super Bowl LII close, but the Patriots remain clear...

Here's everything you need to know about Super Bowl LII
Here's a look at the NFL's entire postseason schedule for 2018

Here's all the details you need to know on watching Super Bowl LII between the Patriots and...

All of the information you need to know about the 2018 Super Bowl