Report: Todd Haley sued after allegedly trashing rental home
Another headache for Steelers offensive coordinator Todd Haley: he's being sued by a Pittsburgh-area home builder.
• 2 min read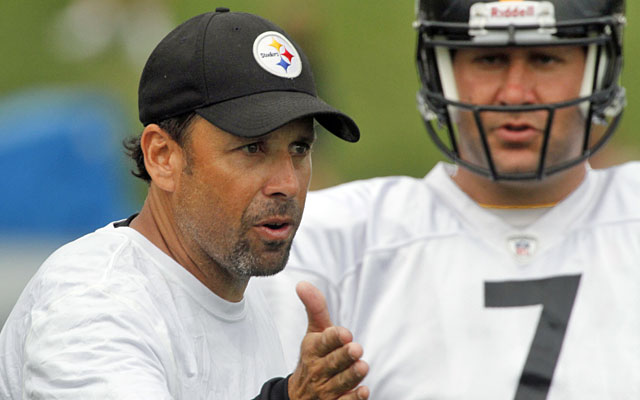 The Steelers are struggling. Offensive coordinator Todd Haley is under fire for how badly Pittsburgh's offense has performed. And you have to wonder about his job security in just his second year under head coach Mike Tomlin.
Oh, and he's being sued by a homebuilder who claims that Haley and his wife trashed the $1.4 million rental in which they were living after they already had backed out of a deal to buy the house, according to WPXI in Pittsburgh.
In the suit filed by Williamson and Jefferson Inc., the Pittsburgh-area company says that the Hales took appliances,  fixtures and outside landscaping and left the house in "disarray and … unmarketable for sale," after the builder expelled the couple in August.
The builder says that it rented the home to Todd and Christine Haley for $6,000 a month as they tried to sell their home in Mission Hills, Kans., following his dismissal as the Chiefs head coach.
Although the rental agreement supposedly said the Haleys had to notify Williamson and Jefferson when they sold their house so they then could buy the house in Upper St. Clair, Pa., they apparently didn't do so. Then, they asked for an extension on the rental agreement, saying legal issues were preventing them from selling their Kansas home.
The Pennsylvania builder -- which also claims the couple owes it $17,500 for a purchase agreement deposit -- said no to their request for an extension and asked the Haleys to move out in August.
That, the builder said, is when the Haleys trashed the house. Williamson and Jefferson is said to be asking for the money to cover the loss in the lawsuit.
"The items removed from the house were all appliances and improvements the Haleys had paid for and installed when the work was not done by the builder, and the removal was done by professional contractors," said James McLean, the Haleys' attorney. "The builder has also refused to return a $62,000 deposit owed to the Haleys."
Continued McLean: "The Haleys dispute the claims alleged by Williamson and Jefferson Inc. as baseless, will vigorously defend themselves against the claims in the lawsuit and have asserted claims of their own against Williamson and Jefferson."
For those interested, Deadspin has a number of photos that were provided by the builder in the lawsuit it filed in August. The damage doesn't look minor.
Here are a couple of examples.
The Steelers didn't have to look far to find their replacement for Todd Haley

The pop superstar will seek halftime show redemption at Super Bowl LII

Our computer model simulated the AFC and NFC title games 10,000 times with surprising resu...
Todd Haley's name has also been floated as a possible replacement

It wasn't the matchup that we expected, but the Jaguars would argue that's everyone else's...

CBS All Access allows viewers to stream every NFL game on CBS in their local market