Report: Video exists of Ravens RB Ray Rice knocking out fiancee
Authorities reportedly have video of Ray Rice knocking out his fiancee at a casino in New Jersey.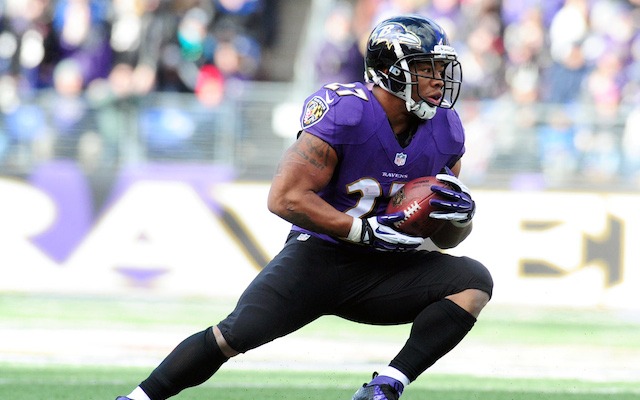 Four days after Ray Rice was charged with simple assault-domestic violence against his fiancee, a security video from Revel Casino in Atlantic City, N.J. emerged showing Rice dragging his unconscious fiancee from an elevator.
Apparently that's not the only video police have though. According to MMQB.com's Robert Klemko, authorities also have a video that shows Rice knocking out Janay Palmer, his fiancee. However, that video hasn't been released to the public yet. 
Palmer has also been charged with simple assault-domestic violence, but it's not clear if video exists of her transgression. In the court summons released on Wednesday, Palmer is accused of attempting to 'cause bodily injury' to Rice by 'striking him with her hand.' 
In Rice's court summons, he's accused of 'striking [Palmer] with his hand' and 'rendering her unconscious.'
Despite the possible existence of a second video, Ravens coach John Harbaugh said at the NFL combine on Friday that cutting Rice was unlikely. Specifically, Harbaugh was asked if there was a scenario where he could see Baltimore cutting ties with Rice. 
"Not that I'm aware of," Harbaugh said. "I haven't seen anything that would remotely make me think that. Ray and I are real close. We have been for a long time, so it's an easy conversation to have." 
If a video of Rice knocking Palmer out does exist, it's not clear if Harbaugh has seen it or even knows about it. However, after talking to Rice, Harbaugh does think Rice and Palmer can work things out. 
"The two people obviously have a couple issues that they have to work through, and they're both committed to doing that," Harbaugh said. "That was the main takeaway for me from the conversation. They understand their own issues. They're getting a lot of counseling and those kinds of things, so I think that's really positive."
In a statement released this week, Rice's attorney, Michael Diamondstein, said that the public should reserve judgment. 
"We are confident that by the time all the facts are in the open, the public will have a complete and true picture of what transpired. We just ask that the public remember what a high-character, good person Ray is, and that they reserve judgment until all facts are out."
Here's the security video that was obtained by TMZ on Wednesday. 
With their 2017 season over, it's time for Jaguars fans to turn their attention to the dra...

With just a few tweaks to the roster, the Jaguars could be the new AFC powerhouse next sea...

Go ahead and buy your championship gear ahead of time, Eagles fans
Philadelphia fans might want to take it down a notch and not poke the bear

It was a valiant effort from the city, but fans would not be deterred

It was utter and total chaos in Philadelphia after the Eagles beat the Vikings