Report: Vikings were surprised by Adrian Peterson suspension
The Vikings reportedly didn't know the league would suspend running back Adrian Peterson for the rest of 2014.
• 1 min read
When Adrian Peterson was suspended for the rest of the season by the NFL, the Vikings released a short statement saying simply, "The NFL has informed the Vikings of today's decision regarding Adrian Peterson. We respect the league's decision and will have no further comment at this time."
Despite the innocuousness of that statement, though, the Vikings were surprised by the league's decision, according to Fox Sports' Jay Glazer.
Meanwhile, ESPN's Ed Werder reported that team owners Zygi and Mark Wilf and general manager Rick Spielman are involved in efforts to get Peterson back on the field this year, though ESPN's Adam Schefter reports that Vikings general counsel Kevin Warren has been working with the league to keep Peterson OFF the field.
Coach Mike Zimmer also reportedly believes that Peterson would prefer to return to the Vikings once the league reinstates him.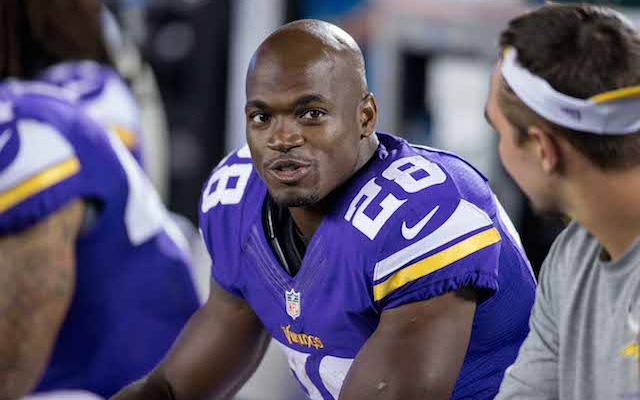 "I would love to go back and play in Minnesota to get a feel and just see if my family still feels comfortable there," Peterson told USA Today this week. "But if there's word out that hey, they might release me, then so be it. I would feel good knowing that I've given everything I had in me ...
"I would have to get back in the community and get a feel. know who loves me. The coaches and the players, it's not going to be a problem. I've felt so much support from those guys. The organization, I know there's people in the organization that support me and there's people that I know internally that has not been supporting me."
All of the best highlights from Week 15 are right here

The Colts quarterback may have to deal with more issues if he suffers a setback

Will the Bengals be able to land a big fish? Let's take at look at seven potential candidates...
One of Tom Brady's favorite targets will be sidelined with a shoulder injury vs. the Steel...

Emory Hunt has his finger on the pulse of the Boys and locked in a strong pick for 'Sunday...

Carolina will not be allowed to conduct an internal investigation