Report: WR Riley Cooper close to new deal with Eagles
The Eagles and wide receiver Riley Cooper are reportedly close to a multi-year deal that will keep the 26-year-old in Philadelphia.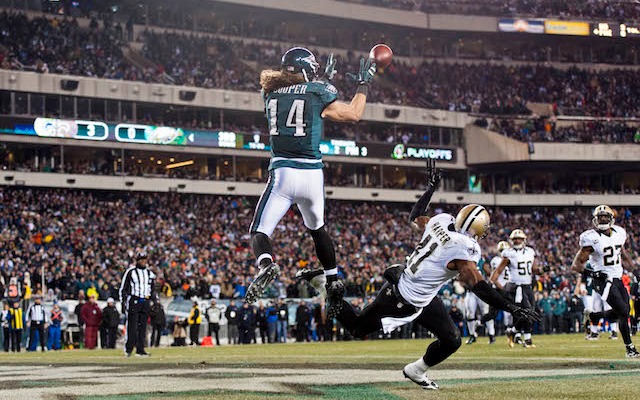 When the 2013 NFL season started, Eagles wide receiver Riley Cooper was still in hot water thanks to a June incident where used a racial slur at Kenny Chesney concert. Cooper recovered from the controversy to have the best season of his career and now the Eagles are set to reward him with a multi-year deal, according to the Philadelphia Inquirer. 
Cooper is set to become a free agent on March 11, but it's not likely that will happen. Cooper's representatives have been negotiating with the Eagles and a multi-year contract is expected to be announced in the 'next few days,' according to the Inquirer. 
Cooper has been in Philadelphia since the Eagles took him in the fifth-round of the 2010 NFL Draft. 
After Jeremy Maclin tore his ACL in the preseason, Cooper was thrust into a bigger role and by tallying career-highs in receptions, yards and touchdown catches. The fourth-year receiver caught 47 passes for 835 yards and eight touchdowns in 2013. In the three combined seasons before 2013, Cooper totaled 46 catches, 679 yards and five touchdowns. 
The Inquirer also reported that Maclin is likely to get a one-year deal from the team. 
It's been a busy week for the Eagles. Besides Cooper and Maclin, the team is also working on a multi-year extension for center Jason Kelce. Philadelphia has also finished negotiations with left tackle Jason Peters, who was signed to a five-year, $53 million deal on Wednesday. 
The Steelers beat the Falcons while the Saints topped the Chargers

Boldin, 36, who ranks ninth in career receptions, is calling it quits after 14 NFL seasons

Reed's toe is healed but can the oft-injured tight end stay healthy?
The Cardinals rookie safety might have a career in break dancing when he's done with the N...

All signs point to Lynch, the former first-round pick, not beating out Siemian in Denver

The NFLPA executive director comes out out firing in a 'Real Sports' segment