Reports: Broncos WR Wes Welker (concussion) cleared to play
After missing the last four weeks of the regular season with a concussion, Broncos receiver Wes Welker has been cleared to play.
• 1 min read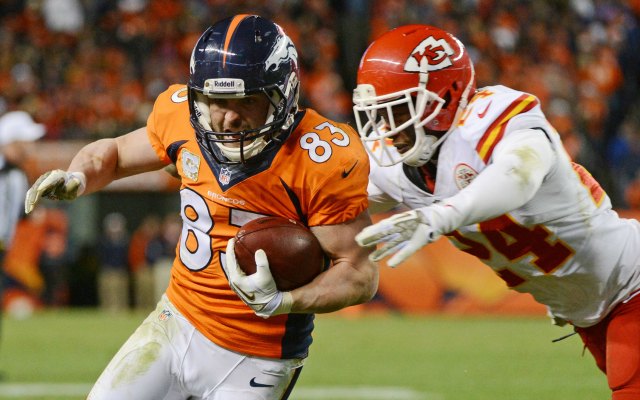 Wes Welker suffered concussions in Weeks 10 and 13, and as a result, he's had to sit out the last four regular-season games. Luckily for the Broncos -- but maybe not for Welker's long-term health -- the receiver has been cleared to play in the postseason, according to multiple reports.
Catching passes from Peyton Manning for the first time in his career, Welker recorded 77 receptions for 778 yards and 10 touchdowns in 13 games this season, and he remains an integral part of the Denver receiver corps with Demaryius Thomas, Eric Decker and tight end Julius Thomas.
Welker practiced on a limited basis last week, but he was held out of the Week 17 contest vs. the Raiders. He'll have an additional week off with Denver locking up the No. 1 AFC seed and earning a bye for Wild Card Weekend.
''Football is a unique game in that you can try to simulate different things in the weight room and different areas, but until you get out there and start running around playing, it's not quite the same," coach John Fox said last week. ''So he's back out there.
"We've got everything under control. Now it's just a matter of him getting back into football shape."
Follow Josh Katzowitz on Google+
For the second straight year Siemian has won the starting job in Denver

The soon-to-be Las Vegas Raiders played in Los Angeles from 1982-1994 before moving back to...

Veteran Alex Smith and rookie Patrick Mahomes have both had solid preseasons
Plus Christian McCaffrey is the truth and the possibility of Blake Bortles being out in Ja...

Let's go under the hood, er helmet, of the VICIS ZERO1 design, the safest helmet in footba...

Bennett was touched by Britt's decision to stand by him as he took a seat on Saturday nigh...