The Buccaneers need help at cornerback, so they're apparently turning to Brent Grimes to remedy the situation. According to NFL Network's Rand Getlin, the Buccaneers and Grimes have agreed on a two-year contract worth $16.5 million. Shortly after Getlin's report, Fox Sports and ESPN confirmed the signing.
Grimes, who began his career with the Falcons and was most recently a member of the Dolphins, will stay in Florida. In Grimes, the Buccaneers are acquiring a cornerback with 26 career interceptions -- including 13 in the past three seasons.
New Bucs CB Brent Grimes had four INTs last season in Miami. All Bucs defensive backs combined for six in 2015 ...

— Greg Auman (@gregauman) March 11, 2016
So then, given Grimes' success, why did the Dolphins cut ties with him on Wednesday? Age, money, and Byron Maxwell most likely played a role in the Dolphins decision to cut Grimes -- he's 32, the Dolphins saved $6.5 million by cutting him, and they just traded for Maxwell -- but, according to the Miami Herald's Armando Salguero, the Dolphins also benefited by getting "rid of a huge headache." Salguero was talking about Grimes' wife, Miko.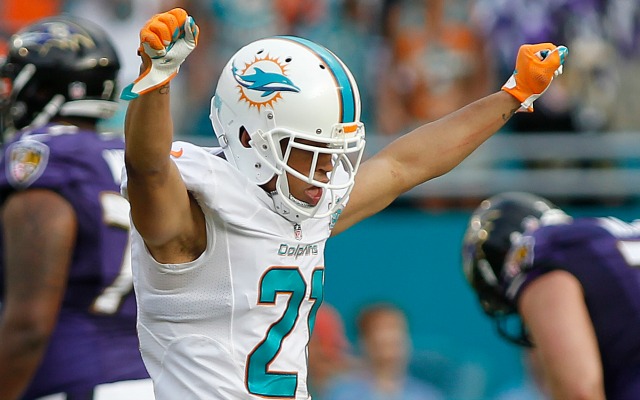 During the 2015 season, Miko Grimes, who was arrested before a Dolphins game in September (the charges were eventually dropped), used Twitter to explain why Ryan Tannehill was the reason for the Dolphins' woes.  Then, after Brent Grimes was released this week, she went on another NSFW Twitter rant, this time targeting Salguero. On Thursday, Bleacher Report reported that three NFL general managers wouldn't sign Brent Grimes due to Miko Grimes.
But, for what it's worth, Miko Grimes' Twitter account has disappeared. You can read her NSFW explanation here.
WOW! pic.twitter.com/tVb09Cja27

— Adam Beasley (@AdamHBeasley) March 11, 2016
With Miko Grimes unable to celebrate the contract on Twitter, NFL cornerbacks Chris Harris and Richard Sherman celebrated Grimes' payday for her.
@ChrisHarrisJr so do I... Great to see

— Richard Sherman (@RSherman_25) March 11, 2016
And Grimes should be pretty happy too.
@Rand_Getlin At $16.5M for 2 years, Brent Grimes is $1.5M better off than playing under remaining 2 years of Dolphins contract.

— Joel Corry (@corryjoel) March 11, 2016