Reports: Mike Shanahan is 'strongly back in the mix' for 49ers HC job
Shanahan was most recently with Washington but has been out of the NFL for the last two years.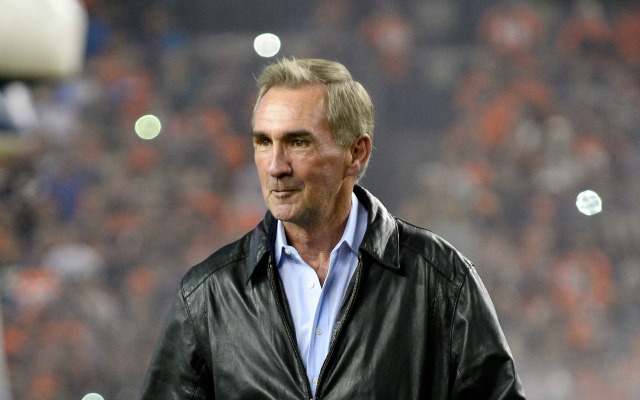 The San Francisco 49ers' head-coaching search has arguably already gone on longer than expected.
In the immediate wake of former head coach Jim Tomsula's firing, there were reports that Chip Kelly would quickly slide into the job. That did not happen. Last week, there were reports that Hue Jackson was the front-runner and the 49ers were hoping to get it done over the weekend. That also did not happen, and Jackson is now the head coach of the Browns. Then there were reports that the 49ers requested a meeting with former Giants head coach Tom Coughlin, and that looked like it could come together quickly. But a Coughlin hiring also has not happened.
Now, a new name has either entered or re-entered the picture, depending on which report you're reading: former Raiders, Broncos and Washington coach Mike Shanahan.
Mike Shanahan strongly back in the mix with the 49ers. Looks like they are closing in on a decision per sources. #49ers

— Dianna Marie Russini (@diannaESPN) January 13, 2016
It appears Mike Shanahan has reentered the picture for #49ers, as they wait to figure out the Coughlin situation. They reached out to him.

— Ian Rapoport (@RapSheet) January 13, 2016
Shanahan has been out of the NFL for the last two years, having been fired by Washington prior to the 2014 season. In 20 years as a head coach, Shanahan has a record of 170-138 (8-6 in the playoffs), and he also won back-to-back Super Bowls with the Broncos after the 1997 and 1998 seasons.
Shanahan has been known to do good work with quarterbacks -- like John Elway and Robert Griffin III, before he ran Griffin back out onto the field with a knee injury that got even worse and ruined his career in Washington -- so the thought here may be that he can somehow salvage the career of Colin Kaepernick, who was given a huge deal a couple years ago and then wound up getting benched for Blaine Gabbert this past season.
Jackson was upset Pittsburgh players were looking ahead to a Patriots rematch

The bulletin board material is piling up for Sunday's AFC Championship game

The right tackle was behind the underdog masks and is now selling 'Home Dogs' shirts
Everything you need to know about the AFC and NFC title games

The Jaguars are poised for the biggest upset in recent playoff history

The Broncos might have tipped their hand as to which player they're targeting at No. 5