Researchers find limited evidence to link playing football with CTE
Despite multiple studies showing head injuries in football cause CTE, Loyola University researchers now say differently.
• 1 min read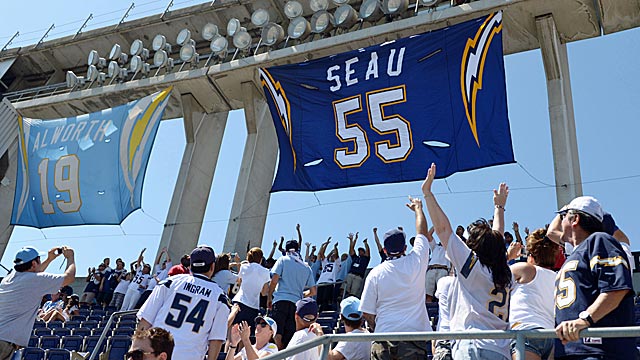 Researchers and doctors have gone to great lengths in the past several years to show the connection between former NFL players who have suffered physically and mentally in their post-career lives, chronic traumatic encephalopathy, and the idea that playing the game caused it. But a new study says there isn't enough evidence to show a link between CTE and football.
According to researchers from Loyola University Medical Center, via CBS Washington, there's only limited evidence that shows playing football increases the risk of CTE.
More from CBS Washington:
A previous study, of 3,439 retired NFL players, who played at least 5 seasons between 1959 and 1988, researchers found that the overall risk of death associated with neurodegenerative disorders was three times higher among these retired than players than the general U.S. population. Alzheimer's disease and ALS was four times higher for the NFL players.

Christopher Randolph, a PhD from Loyola, and a professor in the university's Department of Neurology, and Stella Karantzoulis, PhD, of New York University School of Medicine, found that suicide rates were actually substantially lower among the athletes than the general population.

"Given that suicidality is described as a key feature of CTE, this finding is difficult to reconcile with the high rates of CTE that have been speculated to occur in these retired athletes," Karantzoulis and Randolph write in their study. "It is likely that there are a diverse set of risk factors for suicidality, such as life stress, financial difficulty, depression, chronic pain, and drug abuse, in retired athletes."
Researchers studied retired players who had "mild cognitive impairment" but ultimately concluded that their symptoms were basically the same as those in non-athletes.
"They write that these findings cast doubt on the notion that CTE is a novel condition unique to athletes who have experienced concussions," according to CBS Washington.
Follow Josh Katzowitz on Google+
After an injury to Trevor Siemian, Brock Osweiler entered the game and helped the Broncos to...

The 32-year-old running back is done for the year

Brandon Williams was involved in a scary situation in the first half against Denver
The Broncos are turning back to Osweiler after an injury to Siemian

The Cowboys legend admits he's not on 'great' terms with the Cowboys suspended running bac...

Here's the latest information on injured Steelers linebacker Ryan Shazier