Rewinding the tape on Adrian Peterson's incredible 2012
Adrian Peterson returned from knee surgery to nearly break the NFL's rushing record in 2012. The Vikings star sits down with Pete Prisco to discuss the road back and what's in store for 2013.
EDEN PRAIRIE, Minn. -- The handshake. That legendary handshake.
The one people talk about, as if it were a vice grip, was about to come my way. I was prepared for the worst. Would my fingers make it out intact? Would I be able to type again?
Minnesota Vikings running back Adrian Peterson is used to running over linebackers, and as I waited to greet him here at the team's facility, I braced for his handshake like one of those linebackers waiting to collide with him in the hole.
As he extended his big right hand we exchanged pleasantries and he grabbed my hand like he was wadding up a piece of paper.
Peterson's production: 2011 vs. 2012
Month
2011:
Rush yds (YPC)
2012:
Rush yds (YPC)
September
296 (5.1)
332 (4.2)
October
499 (4.6)
443 (6.2)
November
77 (3.8)
461 (7.4)
December
98 (4.5)
861 (6.4)
Not so bad, I thought. No big deal. Firm, for sure, but not nearly as bad as expected, even if he does squeeze harder than anyone I've encountered.
That handshake is Adrian Peterson in a nutshell: He does so many things that set him apart from others.
Whether it's his act of kindness to kids at a school for special-need students, where he surprised them with an unplanned visit, or his willingness to stand in a sporting-goods store and sign jerseys as he stands behind a cash register with a wide grin on his face, Peterson is not your ordinary NFL player.
He is Minnesota's favorite son, its new Kirby Puckett, a player Vikings fans love and embrace, and he seems to give it right back to them.
But what really sets Peterson apart from others is his super-human ability on the football field. He's a runner like no other in the league right now. This is the man who bounced back from a devastating knee injury and nearly broke the single-season rushing record less than a year removed from surgery. Oh and he won NFL MVP honors in the process.
How does that happen, especially with a guy who is known for his legendary junk-food habit, a player who fills up big giant bowls of sugary cereal and eats it all?
"I have good genes," Peterson said laughing.
It's more than that. Much more. Peterson is a workout freak. That's what you hear when you talk to his teammates and those around him -- and he will boast about it.
That drive and determination is what makes him a special player, but it's also what helped get him through the dark, lonely, painful moments of ACL rehab.
I came here to talk with Peterson about that rehab, but also to sit with him and study him on tape from 2012. We looked at five plays from his first game against Jacksonville, including his first carry back and his first touchdown, and then compared it to three runs from his final game against Green Bay, including his final carry that left him 9 yards short of breaking Eric Dickerson's rushing record.
The Vikings set us up in one of their meeting rooms with a large projector in front of us. Peterson was across from me with the clicker in his hand. He would control himself on the big screen, kind of like a kid playing Madden on his Xbox.
Before we dove into the actual study of the plays, I had some questions about his injury and the process of getting back onto the field.
The first question was about the actual injury. I asked what went through his mind when it happened and why he yelled "why me?" as the trainers came out to the field to see him. And whether he knew it was as bad as it was.
"Yeah, just off of natural instincts, knowing it was something different. Feeling two pops and not being able to move my leg at all. And the pain. And just the hit itself. I knew it was something devastating. The 'why me, why me?' was because the season was as frustrating as it was up to that point. We had two regular season games left. It was like: 'Why me? Why now?' It was toward the end of the season. But I was able to regroup and take it for what it was rather quickly."
Did he think it would keep him from being the same player when he returned?
Peterson: "No, not at all. The only thing that went through my mind was the challenge. What was it going to take to come back and be better than I was? Not let anything sink in as far as negative. I knew it would be a tough challenge ahead."
Has he watched the replay?
Peterson: "Not a lot. It's not something I like to see visually. It's an ugly injury. I don't like the memories of it."
It is a gruesome injury. Redskins safety DeJon Gomes crashed into Peterson's left leg as it is planted in the ground. Peterson not only tore the ACL, but his MCL was also shredded.
That didn't stop AP from being AP.
When Peterson was taken to the locker room he remembered a promise he made to a kid before the game. The kid was wearing an Adrian Peterson No. 28 jersey. And he had a sign that read something along the lines of that all he wanted for Christmas was for Peterson to sign his jersey. Peterson saw the kid before the game, promised him he'd sign it, and remembered that promise as he sat on a table in the locker room, the knee torn to shreds, his career maybe never the same.
With tears running down his face Peterson called Vikings public-relations assistant Jeff Anderson over and told him to go out and get the jersey from the kid. Peterson signed the jersey. How many players would remember to do that after a game, even if they finish it healthy?
"I remember looking at the kid and telling him before the game is over, or after the game, I will make sure to come up there and sign it for you," Peterson said. "When I went back to the locker room, it was something that crossed my mind -- even in that moment. I knew I wasn't going back out on the field. And I promised that kid. The sight of him having that sign, putting that memory to it, me knowing how much I mean to the fan and that little kid, so it was something I wanted to do personally."
A week later, he was having his knee repaired at the hands of famed orthopedic surgeon Dr. James Andrews. He celebrated New Year's Eve in a hospital bed. In typical Peterson style, he didn't wait to have surgery like most. He wanted the process to start as fast as possible, which he knew could be a long, lonely path.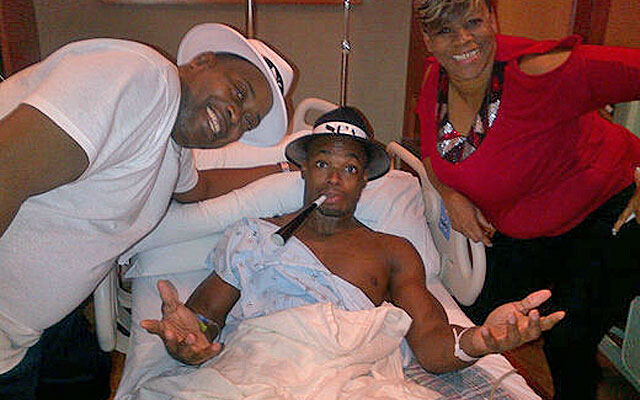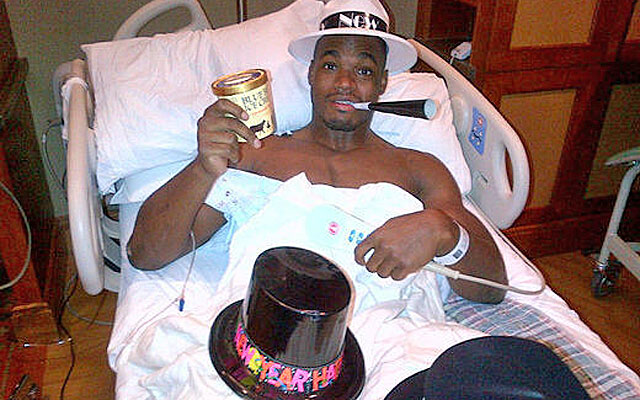 "It can be (lonely)," Peterson said. "But, really, you make it out how you want to make it out. I didn't really try and stress too much about it. I took it for what it was. I just looked at it in front of me and said to myself this is what you have to do. These are steps of what it's going to take to come back. It was lonely at times. Don't get me wrong. It's all about being mentally tough and getting through those tough times. I never wondered. I always knew I would come back. And I would be stronger than I was before. Getting the mark that doctors put out there for ACL injuries, I knew I had enough time for what they projected. And I told myself I was going to beat that. I want to come back better than that. I know they are basing that off guys who go through the rehab process and work. But (they) can't base it off of me because in my mind my work ethic is one of a kind. How I approach things is one of a kind, so I knew I would be ahead of the curve."
Ten months after surgery, with no contact in camp or the preseason, Peterson played in the Vikings' first game. He said he didn't sleep much the night before. He went out and ran for 84 yards in a limited role -- they were watching his carries like a pitch count -- but this was more about getting back on the field and showing he could do it again.
Peterson's first carry, one we looked at on tape here, was just a 3-yard run. But it was so much more. He popped up quickly after the tackle with a celebration of sorts to show how much it meant. As Peterson worked the clicker, showing the play from high above and the end zone, I could see how proud he was of that simple 3-yard run.
"Coming into the first game, walking out of that tunnel, was the best feeling in the world," Peterson said. "It was a quick flashback of everything I went through and been through to get to that point. So many people didn't think I was going to be there. Getting ready for that first hit wasn't something I dwelled on. I knew I was ready to play. I didn't really think about it. It was anything I was worried about taking a hit to the leg. I was sitting back here in the backfield knowing the play is coming to me. It's funny because I'm sure people thought the first play was coming to me. It was a pass play. Sitting back here (pointing to himself on the screen), while we break the huddle, I am thinking to myself it would be awesome to take it to the house the first play."
He discussed that first play, pointing out how he might have been able to pop it to the backside at some other point in his career. "I hopped up fast (after the run) because I was excited. It was my first time in nine months touching a football and playing. I am so full of energy and ready to roll. You kind of take things for granted. But going through the process I was able to sit back and really appreciate the game I play, knowing how fast it can be taken from you."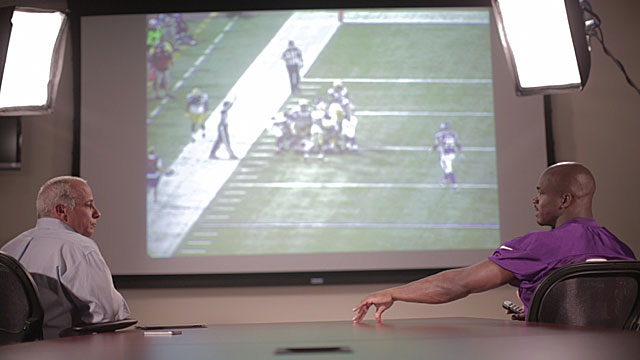 We looked at a couple of more of his runs. Runs that I thought showed he wasn't cutting on that left leg like he would later in the season. He seemed hesitant, afraid to put it on the ground like he did during that run that turned him into another ACL victim. As he watched each of the runs, Peterson agreed with that assessment. He wasn't the same.
"One thing I can say is it was strong during that point, the first game, but there were times as the season progressed I became stronger and stronger," Peterson said. "And, of course, with playing more you get more confidence as well. My confidence was high then, but I would say for the most part being more explosive and getting used to cutting like that and the game speed. The first couple of weeks was a process of me knocking some of the rust off."
After going through a few more plays from that first game -- including his first touchdown back -- we fast forwarded to three plays from the final game against Green Bay.
The first play we looked at was a 28-yard run. The reason I picked that play was because Peterson made a move on Packers defensive back Morgan Burnett in the hole where he planted the left leg as if it still had the good ACL. Peterson ran the play back a few times and talked about what he saw.
"More explosion with that cut compared to the ones earlier," he said. "Faster. Strong."
We looked at another 7-yard run where he made A.J. Hawk whiff in the hole and then got to his final run, which set up the game-winning field goal. It was a 26-yard run to the left side. It was also a run that left him 9 yards short of the record.
As we watched the play unfold, I could tell that Peterson wasn't truly happy with what he did on the play -- and he pointed it out on the big screen.
"I feel like I kind of hesitated a little bit right here (puts the pointer on himself)," he said. "I could have kept it inside. Even though my fullback kind of had his head down, I felt like I could have got inside. But I think I did pretty good taking it outside the 'B gap' right here. I should have crossed his face. That's the big one right there. If I cross his face right here, bam, I plant with the left, cross his face, then I can get vertical and score a touchdown. And then at the time break the record as well. It wasn't meant to happen ultimately. We got the field goal and we advanced to the playoffs. Ultimately, that's what I wanted to do. Come back, be productive and help my team win a championship. This run right there helps us solidify our position in the playoffs. The records, they come and go. So it wasn't bittersweet for me. When I think of it in big scheme of things, no one gave me a chance from the get-go. But me in my mind, I wasn't surprised with the type of season I had because from the moment the injury happened, I put it in my mind I knew I was going to come back and be better than I was before and help my team. I wanted to break the record. It really didn't mean that much to me. And it definitely didn't mean more than getting into the playoffs."
Peterson did some amazing things stamina wise. He rushed for 861 yards in the final month, more than any player had ever rushed for in any month in league history. He also had his per-carry average go up the more carries he got. For carries 1-10, he averaged 5.5 yards per rush. For 11-20, it was 6.0. And for 21-20, it was 7.0. The five carries he had from 31-plus, he averaged 7.6.
The man is a machine.
The Vikings did lose in the playoffs to the Packers. Shortly after that, Peterson was named league MVP, capping off his miraculous comeback and making him the poster-child for ACL surgeries, something he is proud to have next to his name.
"Yeah, it does make me proud," he said. "God put us here for a reason. When I have this platform, not only this but to be a role model to kids, to be able to inspire people through my life trials that I have overcome -- even more so off the field. To have people look up to me and say, 'You know what, Adrian came back from the ACL and everybody else doubted him. He beat the odds.' It feels good to know that God gave me the ability and the mindset to focus, to be able to beat what other people say about the injury and set a mark for our youth and the world to be able to look at. If he did it, I can do it as well. That's what it's all about. If I didn't have the type of season I had, people would still think for sure it's nine months to a year (and) two years truly before you come back from an ACL injury. That's not the case now. So it's good to know I was able to set that standard."
Running backs returning from 2011 ACL injuries: How they fared
Running back
Rushing yards before ACL injury
(last full season)
YPC
2012 Rushing yards
YPC
Adrian Peterson
1,298 (2010)
4.6
2,097
6.0
Jamaal Charles
1,467 (2010)
6.4
1,509
5.3
Knowshon Moreno
779 (2010)
4.3
525
3.8
Rashard Mendenhall
1,273 (2010)
3.9
182
3.6
That quick path back led to the inevitable questions about whether he used PEDS to get there. There is no proof of that, yet the murmurings can be heard all around the NFL. What did Peterson take? Peterson heard the talk himself, including during a game against the Lions, where he had this exchange:
Unnamed Lions linebacker: "Whatever you were juicing on, let me know. I need it."
Peterson: "Man, it's a lot of prayer. The juice of God."
Peterson said the next time the two teams met, that player told him how what Peterson told him that day touched him.
"It was like turning a negative into a positive," Peterson said. "To be honest with you, it makes me feel good when people say little stuff like that, and I'm sure it happens all the time. I guess I am performing that well that people think I'm juicing, that I am taking something. That really shows me how much God has blessed me to be able to come back and play the way I played. To me, it's a compliment (the PED talk). I've always been an honest person. I never cheated the system. I am big on taking advantage of my natural abilities and applying work ethic to it to be able to climb the highest level. People make that decision to do that (PEDS), but I'm not that individual. I feel like I'd be cheating myself. And things I've accomplished would be void. That's not what I am about."
With the 2013 season upon us the scary thing for opposing defenses is Peterson's leg is much better than it was in 2012.
"I expect do to do bigger and better things," he said.
So maybe 3,000 yards?
"It's possible, it can happen," Peterson said. "When I look back on the film and see those first five games, 2,500 yards was reachable. The record was crushed. Considering the time I played and the games I kind of sat out. The first five weeks I really didn't get to play that much. I feel comfortable with that if you watched the Minnesota Vikings and watched our team play, you know the record was broken easily (if he was healthier earlier)."
Stat Projections: Current and past (via PredictionMachine.com)
Adrian Peterson -- 2013
1,705.2 rushing yards on 316.3 carries (5.39 YPC), 10.5 rushing TDs
41.7 catches, 249.9 receiving yards, 1.32 receiving TDs
No. 1 Fantasy RB (27.8 FPs ahead of second place)
15.15 games played (i.e. 112.5 rush yards and 129.0 total yards per game played)
Minnesota Vikings -- 2013
6.7 wins, 9.3 losses
Favored in just three games
vs. Browns in Week 3 is only game where Vikings are greater than 55% likely to win (2.8 point favorites)
6.4% chance to make playoffs, 0.1% chance to win Super Bowl
Adrian Peterson -- 2012
1,043.9 rushing yards, 8.2 rushing TDs
230.4 receiving yards, 1.4 receiving TDs
No. 12 Fantasy RB (80.0 FPs behind first place)
11.4 games played (i.e. 91.6 rush yards and 111.8 total yards per game)
He might not own the rushing record, but he sure owns the record for best comeback from an ACL for any running back, but don't worry about any of it changing this guy.
He is as genuine as they come, which is why he might be the most-beloved player in any one state in the NFL. Minnesota loves this kid. Fans swarmed him as he left that sporting goods store, and he never flinched, the smile never came off.
Sure, it was a paid appearance, but he looked to be enjoying every bit of it. As he finally left the main area, long after he was scheduled to leave, I stopped him on his way out and thanked him for the access.
"They sure do love you here," I said.
He reached out that hand again, crushed my right hand in it, and smiled. Adrian Peterson has a firm grip on a lot more than just some handshakes.
Peterson stats by year
Year
Rushing
Receiving
Fumbles
Season
Rush
Yds
Y/G
YPC
TD
Rec
Targets
Yds
Y/G
Avg
Lng
YAC
TD
Fum
Fum Lost
2012
348
2097
131.1
6.0
12
40
51
217
13.6
5.4
20
4.9
1
4
2
2011
208
970
80.8
4.7
12
18
23
139
11.6
7.7
22
7.0
1
1
0
2010
283
1298
86.5
4.6
12
36
50
341
22.7
9.5
34
9.7
1
1
1
The Steelers beat the Falcons while the Saints topped the Chargers

Boldin, 36, who ranks ninth in career receptions, is calling it quits after 14 NFL seasons

Reed's toe is healed but can the oft-injured tight end stay healthy?
The Cardinals rookie safety might have a career in break dancing when he's done with the N...

All signs point to Lynch, the former first-round pick, not beating out Siemian in Denver

The NFLPA executive director comes out out firing in a 'Real Sports' segment