Rex Ryan: Bill Belichick doesn't have all the answers
Bill Belichick and the Patriots have cut two second-round picks since 2010. Rex Ryan and the Jets have picked them both up.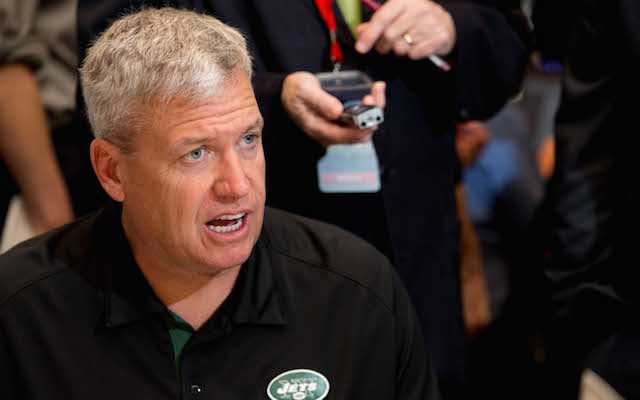 More NFL offseason: League minicamp dates | Latest news, notes
Just because Bill Belichick had no use for Jermaine Cunningham and Ras-I Dowling doesn't mean the two players won't be successful with the Jets. 
Cunningham and Dowling were both former second-round picks of the Patriots who got cut less than a week apart during the 2013 preseason. Now both players are in New York and Rex Ryan thinks the two Patriots castoffs will be able to help his team. 
"I don't believe the one guy up in New England's got all the answers," Ryan said, via the New York Daily News. "I worry about ourselves, what we think of a player and how we evaluate a player. Do I respect the hell out of Bill? Absolutely. But if we think a player can help us, we don't care how we get him."
Cunningham, an outside linebacker, was one of New England's three second-round picks in 2010, along with Brandon Spikes and Rob Gronkowski. Cunningham only lasted three seasons with the team before Belichick decided the Patriots didn't need him. 
Ryan will be especially surprised if Cunningham isn't playing right away in New York, "I'll be shocked if he's not a contributor for us."
As for Dowling, the cornerback was the 33rd overall pick in the 2011 draft. The injury-riddled 26-year-old only played in a total of nine games over two seasons with the Patriots. 
With both Dowling and Cunningham, Ryan is hoping he's right about the players and Belichick is wrong. 
"Sometimes what might not be good for you looks good for somebody else," Ryan said. "You know what? Guys make mistakes."
All of the information you need to know about the 2018 Super Bowl

Here's all the details you need to know on watching Super Bowl LII between the Patriots and...

No one wants to give the Eagles any respect
Here's a look at the NFL's entire postseason schedule for 2018

Here's everything you need to know about Super Bowl LII

Philadelphia will try to prevent New England from winning back-to-back Super Bowls