Rex Ryan on Geno Smith as starting QB: 'Let's let it play out'
Geno Smith is not a sure thing to start quarterback next season for the Jets, coach Rex Ryan said this week.
• 2 min read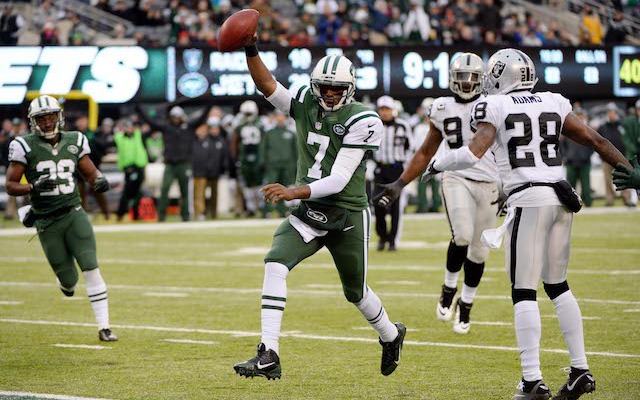 Considering Geno Smith, though he had his ups and downs as a rookie quarterback, helped lead the Jets to an 8-8 record -- which saved coach Rex Ryan's job -- perhaps you'd think Smith would be considered the starting quarterback heading into the 2014 season.
Well, that's evidently not true, because Ryan this week failed to give Smith his full-fledged endorsement.
"We could say it, but with us, you can't really say with any certainties on anything right now because you're just starting the offseason," Ryan said Friday, via the NY Daily News. "You don't know what your roster is going to be. It's probably not the best thing to say, 'Hey, this guy is going to be a starter.' Let's let it play out."
On the season, Smith completed 55.8 percent of his passes for 3,046 yards, 12 touchdowns and 21 interceptions. When Smith played badly, he was terrible, but when he played well, he was actually pretty good.
But if you think Smith is going anywhere soon, it seems unlikely. Unlike Mark Sanchez, Smith is general manager John Idzik's draft pick, and to give up on him so quickly, especially after the team outperformed preseason expectations, doesn't seem to make much sense.
With Matt Simms on the roster -- and with Mark Sanchez expected to be released -- the newspaper theorizes that the Jets will sign a veteran free agent in the offseason.
Making things more murky are some offseason problems in which Smith was involved in a dispute on a Virgin America flight (the airline later apologized) and when a woman posted online a picture of what she said was Smith's private parts.
"Nobody's perfect," Ryan said. "So I think I'd be very careful about passing judgment on the young man…. I absolutely spoke to him. You are going to be in the spotlight. People are going to look at you differently than maybe they look at anybody else. Whether you want the attention or not, you are the quarterback of the New York Jets and with that comes a lot of attention."
But Ryan also isn't saying anything different from what Idzik said a month ago about Smith.
"We're all excited about having Geno as part of the Jets but we will always look to improve every position in any manner we can and that doesn't change going into 2014," Idzik said then. "We'll look at quarterbacks, yes we'll look at quarterbacks. ... You all witnessed how he did, how he finished strong. We're very, very excited and happy that Geno is with us."
Follow Josh Katzowitz on Google+
The 49ers' last three wins have come against the Rams though they're 0-19 against everyone...

The Rams have struggled against the 49ers but that was during the Jeff Fisher era

Two weeks into the season, the Chiefs keep creating long touchdowns. Can they keep it up?
CBS All Access allows viewers to stream every NFL on CBS game in their local market

CBS All Access allows viewers to stream every NFL on CBS game in their local market

CBS All Access allows viewers to stream every NFL on CBS game in their local market