Rex Ryan says Jets weren't planning to take Bruce Irvin with 16th pick
Although there was a report that the Jets coveted Bruce Irvin and would have drafted him with the 16th pick, Rex Ryan says that's not true and that the team wanted Quinton Coples
• 2 min read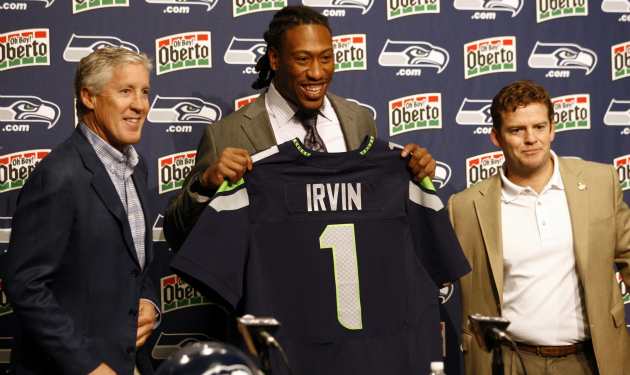 At this point, it's unclear if anybody, besides Seattle, wanted Irvin drafted so early. (US Presswire)
When the
Seahawks
created the biggest stir of the first round -- if not the biggest stir, at the very least, it was the biggest surprise -- by taking former West Virginia Bruce Irvin, the
Jets
apparently were not pleased. That's because, as
Len Pasquarelli reported
, the Jets, picking one spot behind Seattle at No. 16, apparently coveted the defensive end/linebacker and were set to pick him.
According to Pasquarelli,
New York
wasn't the only franchise salivating at the thought of landing the troubled Irvin, Supposedly, the
Bears
,
Packers
and
49ers
also wanted a piece of him.
Instead, Pete Carroll made the Pete Carrollest of picks, and as Pasquarelli writes, "Less than five minutes after the Seahawks plucked Irvin, with a pick that surprised many pundits, the telephone rang in the Seattle "war room." On the other end was a Jets' official, good-naturedly cursing a Seahawks' counterpart for having chosen the prospect New York planned to grab one pick later."
Rex Ryan, though, says that's not exactly true. Instead, he says he wanted -- and this probably isn't a shocker -- the exact guy the Jets ended up drafting, Quinton Coples. But Irvin? No, Ryan says.
"He's a guy we did a lot of stuff on," Ryan said, via
NFL.com
. "We liked Bruce Irvin as a player, but not ahead of the first two guys we took."
The second guy, of course, being Georgia Tech receiver Stephen Hill.
And actually, the move to draft Irvin might have made more sense for the Jets than for Seattle. After all, the Seahawks play a 4-3 defense, and since Irvin is more of a 3-4 defensive end/linebacker hybrid, the Jets perhaps could have utilized him more effectively in their scheme.
But before we make the final determination that Ryan's comments are the true word, remember this: Pasquarelli is a long-time
NFL
reporter with plenty of good sources, and Ryan, as much as we love him … well … we'll let Pasquarelli have the final word.
"Ryan," writes Pasquarelli, "is prone to hyperbole."
For more NFL news, rumors and analysis, follow @EyeOnNFL on Twitter, and subscribe to our Pick-6 Podcast and NFL newsletter. You can follow Josh Katzowitz on Twitter here: @joshkatzowitz.
After an injury to Trevor Siemian, Brock Osweiler entered the game and helped the Broncos to...

The 32-year-old running back is done for the year

Brandon Williams was involved in a scary situation in the first half against Denver
The Broncos are turning back to Osweiler after an injury to Siemian

The Cowboys legend admits he's not on 'great' terms with the Cowboys suspended running bac...

Here's the latest information on injured Steelers linebacker Ryan Shazier