Richard Sherman: NFL wouldn't have banned Donald Sterling for life
If Donald Sterling was an NFL owner, Richard Sherman doesn't think Sterling would've been banned for life in a league that allows one of its teams to be called the Redskins.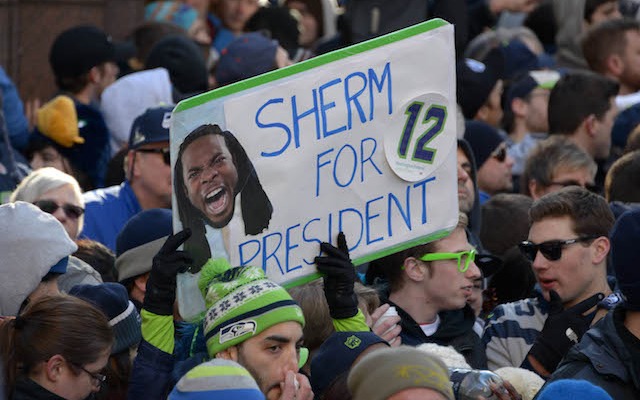 More Draft coverage: Mock Drafts | Prospect Rankings | Big Board | News
NBA Commissioner Adam Silver came down hard on Clippers owner Donald Sterling last week after a recording was released where Sterling was caught making several racist remarks. Sterling was banned from the NBA for life and fined $2.5 million.
That punishment probably wouldn't have happened if Sterling were an NFL owner though, at least according to Richard Sherman. In an interview with Time, Sherman said that he doesn't believe Roger Goodell would've banned an NFL owner for life if a similiar incident had occurred in the NFL. 
"No I don't [believe there would be a lifetime ban]. Because we have an NFL team called the Redskins," Sherman said. "I don't think the NFL really is as concerned as they show. The NFL is more of a bottom-line league. If it doesn't affect their bottom line, they're not as concerned."
The Seahawks cornerback, fresh off signing a $57 million contract on Wednesday, said he'd like the Sterling situation to be the impetus for the Redskins to change their name -- or at least restart the conversation. 
"I would hope it would help. It'd help reinitiate the conversation. And at least there would be another discussion," Sherman said. "You know, I think the discussion has stopped. And the public has just accepted it. And I think there should be more conversations. But it is what it is."
Sherman ended by saying that the NFL allowing a team to be called the Redskins 'says a whole lot' about the league -- and not in a good way. 
Although the conversation about the Redskins name has slowed down, it hasn't completely stopped. Senator John McCain said on May 2 that the Redskins should 'probably change' their name. 
However, that doesn't sound like anything Washington owner Daniel Snyder plans on doing anytime soon. Back in April, Snyder said the team's name was 'not an issue.'
SportsLine's Nick Kostos wins big on Monday nights and gives his best three-team parlay for...

Belichick has always had the magic touch, but some of his offseason moves might backfire on...

Week 6 in the NFL was filled with shocking results. Let's go that route with this mock dra...
After stops in Chicago and Philly, the NFL Draft is now headed to Dallas

The Browns remain a team without a franchise quarterback

Kaepernick filed a collusion grievance against the owners earlier this week