Richard Sherman on Deflategate: Goodell won't punish Kraft's Patriots
Sherman noted the relationship between Patriots owner Robert Kraft and Commissioner Goodell.
The Seattle Seahawks arrived in Arizona and were greeted by a sizable media contingent. Obviously, a lot of people wanted to talk to outspoken cornerback Richard Sherman. One of the questions he was asked related to the punishment the Patriots might see as a fallout from the controversy that has come to be known as Deflategate.
Sherman's response: "Will they be punished? Probably not. Not as long as Roger Goodell and Robert Kraft are still taking pictures at their respective homes. I think it was just at Kraft's house last week before the AFC Championship, you know. Talk about conflict of interest."
Patriots owner Robert Kraft has been one of the Commissioner's most outspoken supporters over the years, and there was indeed a photo of the two -- and other members of the Kraft family -- together that surfaced last week, via the official Patriots Twitter account.
Scenes from the AFC Championship party & special live edition of Patriots All Access at Robert Kraft's house tonight pic.twitter.com/SAFn5WzHWy

— New England Patriots (@Patriots) January 18, 2015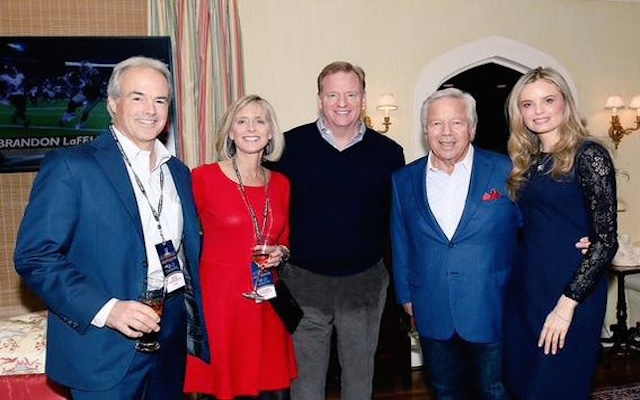 The Steelers beat the Falcons while the Saints topped the Chargers

Boldin, 36, who ranks ninth in career receptions, is calling it quits after 14 NFL seasons

Reed's toe is healed but can the oft-injured tight end stay healthy?
The Cardinals rookie safety might have a career in break dancing when he's done with the N...

All signs point to Lynch, the former first-round pick, not beating out Siemian in Denver

The NFLPA executive director comes out out firing in a 'Real Sports' segment