Richard Sherman: Why did Eagles keep Cooper, cut DeSean Jackson?
Richard Sherman is wondering why DeSean Jackson faces so much criticism when people like Riley Cooper and Jim Irsay are getting in trouble.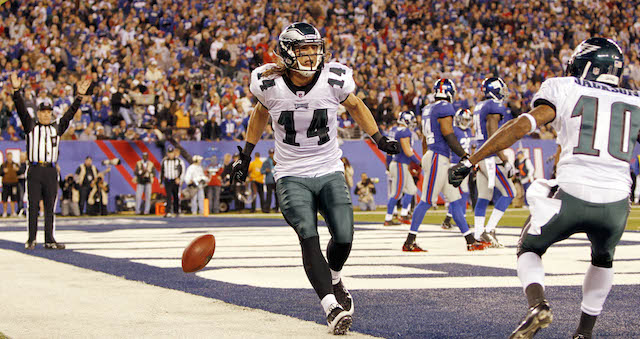 The Eagles haven't made it entirely clear why they cut DeSean Jackson -- or clear at all.
It could have been because of Jackson's reported gang-ties. It could've been because of his attitude. It also could have been a money-related move. After all, Jackson did have three years left on a contract that was going to pay him over $10 million in 2014. 
However, because the Eagles aren't talking, we don't know if it was one of those reasons, some of those reasons or all of those reasons. 
If the reason was gang-ties though, then Seahawks cornerback Richard Sherman has a few questions about what he believes to be a double-standard: The Eagles dumped Jackson, but kept Riley Cooper, who was caught on film using a racial slur at a Kenny Chesney concert last summer.
Sherman, who grew with Jackson just outside of Los Angeles and played Little League baseball with the wide receiver, wrote about this issue for MMQB.com. 
The Seattle Seahawks get it. The Philadelphia Eagles apparently do not.This offseason they re-signed a player who was caught on video screaming, "I will fight every n—– here." He was representing the Philadelphia Eagles when he said it, because, of course, everything we do is reflective of the organization. But what did they do to Riley Cooper, who, if he's not a racist, at least has "ties" to racist activity? They fined him and sent him to counseling. No suspension necessary for Cooper and no punishment from the NFL, despite its new interest in policing our use of the N-word on the field. Riley instead got a few days off from training camp and a nice contract in the offseason, too.
Cooper signed five-year, $25 million extension with the Eagles in February. A signing that came just six months after the video of Cooper using the racial slur was released.
Sherman also wants to know why others get off so easy, like Colts owner Jim Irsay, who was arrested for DUI on March 17.  
Look at the way many in the media wrote about Jim Irsay after his DUI arrest. Nobody suggested the Colts owner had "ties" to drug trafficking, even though he was caught driving with controlled substances (prescription pills) and $29,000 in cash to do who-knows-what with. Instead, poor millionaire Mr. Irsay needs help, some wrote.
Basically, Sherman is asking everyone not to judge Jackson just because he grew up in a rough neighborhood outside of Los Angeles. Sherman says neither he nor Jackson are looking to 'run from where we grew up.'
Haley made the Steelers into one of the league's most fearsome offenses

Gronk is one of the toughest players to defend in the NFL, so how will the Jaguars handle...

Tom Brady used his injured hand to post a must-see hype video to Instagram
Robert Kraft has plenty of things to say before Sunday's AFC title game

Here we go again, the beef between McCoy and Kelly is getting going again

Follow along with live updates on the AFC Championship Game between the Jaguars and Patrio...