Richie Incognito files grievance against Dolphins
Richie Incognito has filed a non-football injury grievance against the Dolphins. Incognito is challenging his indefinite suspension, a suspension that by rule, can't last longer than four weeks.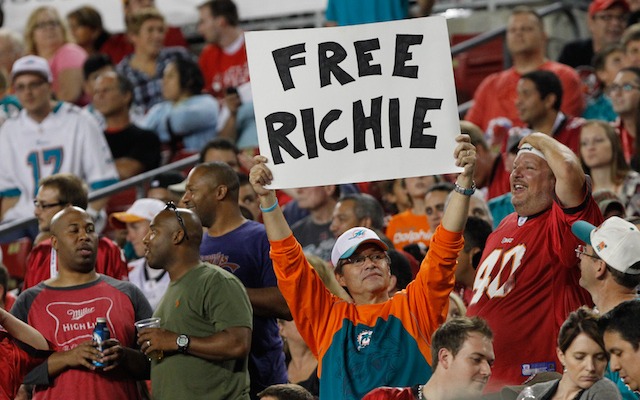 Richie Incognito has been suspended by the Miami Dolphins since Nov. 3 when the team announced that it would be suspending Incognito indefinitely. Incognito's now fighting back and has filed a non-football injury grievance against the Dolphins challenging his status as 'indefinitely suspended.'
The NFLPA released a statement on Thursday confirming Incognito's grievance.
Richie Incognito filed a non-injury grievance against his employer, the Miami Dolphins, pursuant to his rights under the Collective Bargaining Agreement. The grievance challenges his suspension for conduct which was alleged to have occurred while he was with the club. In the grievance, Incognito requests that the hearing be held on an expedited basis so that he can immediately resume playing for the team. The NFL Players Association will continue to protect the rights of all players.
 Officially, Incognito was suspended for conduct detrimental to the team for the part he played in the bullying of teammate Jonathan Martin. 
"The Miami Dolphins have suspended Richie Incognito. We believe in maintaining a culture of respect for one another and as a result we believe this decision is in the best interest of the organization at this time," the team said in a statement on Nov. 3. 
Incognito's grievance against the Dolphins will be heard by a neutral arbitrator on an undisclosed date, but it should be soon because Incognito has requested an expedited hearing. 
Under the terms of the Collective Bargaining Agreement, the longest you can suspend a player for conduct detrimental to the team is four weeks. Incognito was suspended on Nov. 3, so his 'indefinite suspension' can only through Dec. 1 at the longest.
As of right now, the Dolphins have until Dec. 2 to decide if they want to bring Incognito back or cut him. However, an arbitrator could reduce Incognito's sentence, which would require the Dolphins to make a decision on his status before Dec. 2. 
This might go down as the most expensive snowstorm of Adam Vinatieri's life

The Cowboys unveiled a new look on Sunday and their fans seemed to love it

Conquerors of adversity in 2017, the Eagles are still on the fast track to claiming the NFC's...
Cord-cutters are probably going to like this new deal between the NFL and Verizon

Stephen Oh has his finger on the pulse of Bill Belichick's team and just locked in a strong...

Savage left the game before returning after just one series