Richie Incognito insults Jonathan Martin's agent on Twitter, deletes it
Richie Incognito seemingly has no love lost for Jonathan Martin's agent.
• 1 min read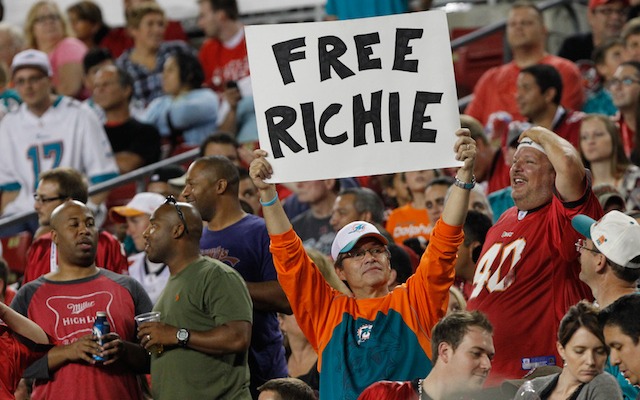 Recently-unsuspended Dolphins guard Richie Incognito has been busy on Twitter lately. First, he wished well his soon-to-be-former teammate Jonathan Martin and supported his return to the NFL in 2014, and later, he announced that he'd be cool with hazing Eagles quarterback Matt Barkley.
But on Thursday, he thought better of a tweet in which he ripped Martin's agent and deleted it. But this is the Internet and nothing really disappears. Thus ...
@AbramsonPBP FYI Incognito just tweeted this then quickly deleted it... pic.twitter.com/yG6R6qD0ow

— AlBott (@AlBott27) February 6, 2014
Perhaps Incognito was making mention of that general thought process around the Internet that since thousands of text messages between Martin and Incognito were made public, the idea that Martin was Incognito's innocent victim got tougher to believe. Instead, the messages made it seem that the two were close friends and that Martin playfully insulted Incognito just as much as Incognito insulted Martin.
It was also reported Wednesday night that the findings of the Ted Wells investigation into the Dolphins locker room and whether Incognito had bullied Martin wouldn't be ready for another week or two. In response, Incognito tweeted the following to Wells' law firm:
Paul, Weiss, Rifkind -- Really taking your time on this one. Not like my career and life have been in the balance for 3 months.

— Richie Incognito (@68INCOGNITO) February 6, 2014
Personally -- and I think this is something on which most of us would agree -- maybe it's time for Incognito to lay off Twitter for a little while. Because, at this point, it's not making him shine in the best light.
Follow Josh Katzowitz on Google+
The Pro Football Hall of Fame is one step closer to announcing the Class of 2018

Grab some turkey and get ready for this NFC North showdown

SportsLine's top NFL and college football experts pick a 4-team parlay that pays 10/1
After an epic collapse against the Saints, the Redskins are hoping to right the ship

Brice Irvin is not a happy camper right now

Linda Del Rio is not happy with the president