Richie Incognito: Regrets racial slurs, texts with Martin out of context
In an interview with Fox Sports, Dolphins guard Richie Incognito said this controversy is not a bullying issue.
• 3 min read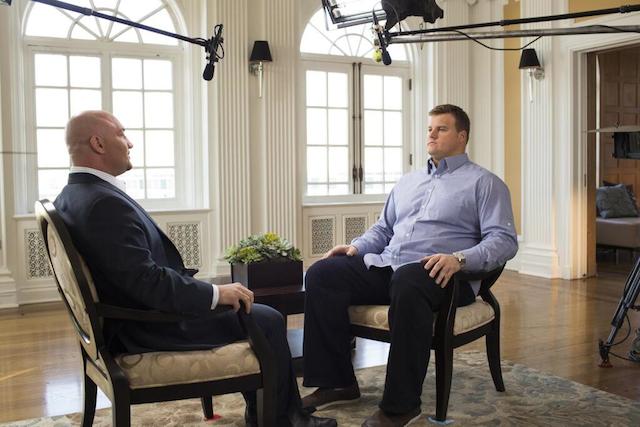 In an interview with Fox Sports' Jay Glazer that aired Sunday morning, suspended Dolphins guard Richie Incognito said his controversy with tackle Jonathan Martin was not a bullying issue but instead was an accepted part of the team's locker room culture.
To prove that, Incognito said Martin sent him a shocking text message a week before "all this went down" that declared Martin would murder Incognito's family.
Yet Incognito also said he regretted using racial epithets against Martin.
"All this stuff coming out, it speaks to the culture of our locker room, it speaks to the culture of our closeness, it speaks to the culture of our brotherhood," Incognito told Glazer.
"And the racism, the bad words, that's what I regret most, but that's a product of the environment and that's what we use all the time."
Here's what we learned from the interview:
To give proper context to the way they communicate, Incognito said that a week before "all this went down", Martin texted him the message, "I will murder your whole f'ing family."
"Did I think Jonathan would murder my family? Not one bit," Incognito said. "I knew it was coming from a brother, coming from a friend, coming from a teammate. That puts into context how we communicate with each other."
Also this on Incognito's racially-tinged message: "I did not intend to hurt him. I was going for, 'Hey, I haven't seen my buddy. I want to shock him.' When the words aren't put in that context, I understand why a lot of eyebrows get raised. But people don't know how Jon and I communicate with each other.
Incognito was surprised at Martin's actions. "Jon never showed signs that football was getting to him, that the locker room was getting to him," Incognito said.
He allowed Glazer to look at his phone after the interview, and Glazer said that, in the past year, the two have shared 1,142 text messages with each other, many of which shared the same kind of vulgarities.
A day after Thursday's Dolphins game, Incognito said the two communicated via text and Martin said the allegations against Incognito weren't coming from him. One text message from Martin read: "Wassup man? the world gone crazy. LOL. i'm good tho. Congrats on the win."
As for what Incognito would say if Martin -- who Incognito refered to as his best friend on the team -- was sitting next to him. "I'd give him a big hug.We've all been through so much," Incognito said. "I'd be like, 'Dude, what's going on? Why didn't you come to me?' If he were to say that you took it way too far, that you hurt me, I would apologize and I would aplogize to his family. I never meant it that way."
As for whether Incognito is racist: "I'm not a racist. To judge me by that one word is wrong. [But] it's never acceptable for me to use that word, even if it's friend to friend on a voice mail." On the other hand, Incognito also said the n-word is used in the locker room, including by Martin. "My actions were coming from a place of love," Incognito said. "No matter how bad or vulgar it sounds, that's how we communicate. That's how our friendship was."
Incognito apparently claims he didn't do anything wrong and that he was Martin's most ardent defender. "This isn't an issue about bullying," Incognito said.  "This is an issue of my and Jon's relationship.  You can ask anyone in the Miami Dolphins locker room who had Jon Martin's back the absolute most and they will undoubtedly tell you me."
Whether he really believes that, the NFL will do its best to investigate the entire episode. As CBS Sports' Jason La Canfora reports, the investigation, led by well-known attorney Ted Wells, already has begun.
Writes La Canfora: "Wells, according to sources, has a lengthy list of interview subjects and plans to be meticulous and diligent as he probes broader issues besides just the inter-personal dynamics between Martin and Incogntio, including the larger locker room culture there, how pervasive issues of bullying and harassment might be, and what role, if any the coaching staff, management, and ownership may have played -- implicit or complicit -- in the team's handling and control of workplace issues."
Follow Josh Katzowitz on Google+
The Fins wide receiver took a shot at the Pats with his touchdown celebration

Former Atlanta sportswriter Larry Hartstein knows the Falcons and locked in a pick for 'Monday...

The Patriots losing might be bad for New England but its great for watching Bill Belichick
The league-owned network suspended Marshall Faulk, Ike Taylor and Heath Evans as it investigates...

R.J. White has his finger on the pulse of Indy and made a strong play for 'Thursday Night...

Wondering which NFL teams are going to win in Week 15? You've come to the right place to find...