Richie Incognito: Returning to play for Dolphins is 'No. 1 goal'
Former Dolphins guard Richie Incognito wants to return to Miami.
• 1 min read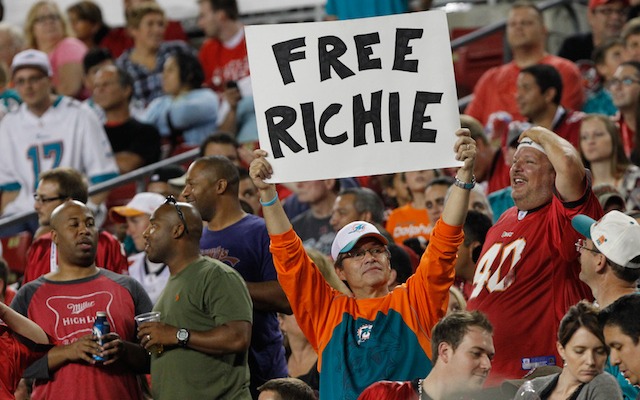 More NFL offseason: Mock Drafts | Prospect Rankings | Pro Days | Top free agents
Former Dolphins guard Richie Incognito returned to the Twitterverse on Wednesday after spending a number of weeks in rehab receiving treatment for his stress. As is his wont, he got right to work on Twitter, writing out inspiring messages and retweeting his fans who were happy to hear from him again. And, well, this.
Feels good to finally be #FREEEEEE

— Richie Incognito (@68INCOGNITO) March 19, 2014
Luckily for all of us, he refrained from blasting Jonathan Martin. Instead, he told WSVN that he wants to play for the Dolphins again.
Collectively, all of us say ...
Richie Incognito says he wants to return to the Dolphins. Uh, good luck with that...

— Andrew Brandt (@adbrandt) March 20, 2014
But Incognito is serious. While Martin has taken a job with the 49ers, leading to hopeful speculation that perhaps the Seahawks would sign Incognito (can you imagine?), Incognito is on the free agent market, checking in at No. 154 on the CBSSports.com list. He's hopeful that an offer from Miami is forthcoming.
"Returning to the Dolphins was my number one goal from the time I got suspended," Incognito told the station. "I want to return to the community in Miami and resume my playing career as soon as possible."
Asked about his reaction to Martin's signing with San Francisco, Incognito said he was excited for his former teammate and that it was "awesome." As for him, he thinks a return to his old job is the most appropriate way forward.
"Dolphins fans, Richie is well," he said. "Richie wants to come back and play. But the business has to handle the business end, and that's it."
Stills did his best Jermaine Kearse impression

Everything you need to know for Week 7 of the 2017 NFL season is here

Discovery process in grievance will include request for certain owners/GMs to turn over cell...
Rodgers could try and make a return as early as Week 15 if the Packers are in the playoff...

The Texans quarterback has been one of the league's best players through six weeks

Galynn Brady explains what her life has been like for the past 18 months