Rob Gronkowski says he, Patriots are 'on the same page' about return
Rob Gronkowski says the Patriots aren't trying to rush him back and that he's on the 'same page' with the team as far as his rehab and return go.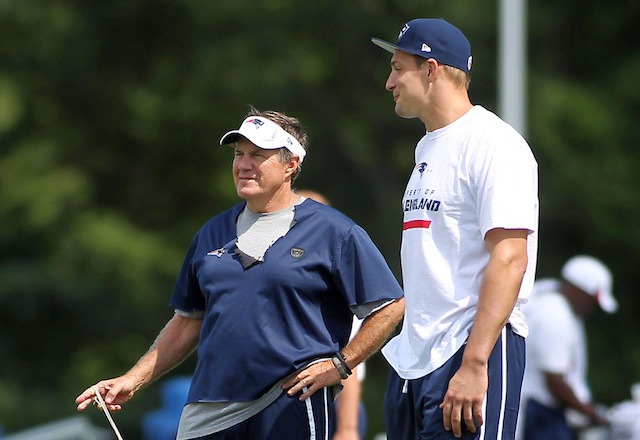 New England tight end Rob Gronkowski hasn't been on the field once this season for the Patriots, but that's all part of the master plan, according to Gronkowski.
Over the weekend, reports suggested that New England wanted Gronk on the field in Week 4, but he didn't think he was ready to play yet. Not so, says Gronk. Gronkowski maintains that there's no rift between his camp and the Patriots, and as far as his rehab and return go, everyone's on the same page. 
"We were on the same page from the very get-go. And [we're] still on the same page and it's going good," Gronkowski said, via ESPN.com. "I'm progressing every week, I'm feeling better every week, getting stronger every week and better conditioning every week. Just still sticking to the motto 'day by day.'"
Gronkowski has been listed as questionable on the Patriots injury report since Week 3 -- meaning the team felt there was at least a 50 percent chance he would play -- but Gronkowski says he's not feeling any pressure from the team to suit up. 
"No, not at all," Gronkowski said of feeling pressure. "Everything's great around here. Just going out to practice with the team and practicing with the team, it's helpful every single week to get the chemistry back down and get the timing of football back down." 
As for the reports that Gronkowski is targeting a Week 6 return, "When I'm ready, I'm ready," Gronkowski said. "If it's this Sunday, next Sunday, the Sunday after that, it's just going day-by-day. So I really couldn't tell you when it's going to be."
So basically, Gronkowski will be on the field at some point this season and whenever that is, the Patriots will be OK with it. 
The former No. 2 overall pick drew interest this offseason but did not play in 2017

This matchup isn't quite as glamorous as it looked when the schedule was released in the s...

Patriots-Steelers highlights a week filled with playoff-caliber games
Cleveland's quarterback has recently improved, but his turnovers have been a big part of the...

Warren Sapp was one of several players named in a lawsuit against NFL Network

Check out the uniforms that Denver and Indianapolis will be wearing on Thursday