Robert Griffin III: RB Alfred Morris is Redskins' biggest offensive weapon
The Redskins biggest offensive weapon in 2014 won't be Robert Griffin III or DeSean Jackson.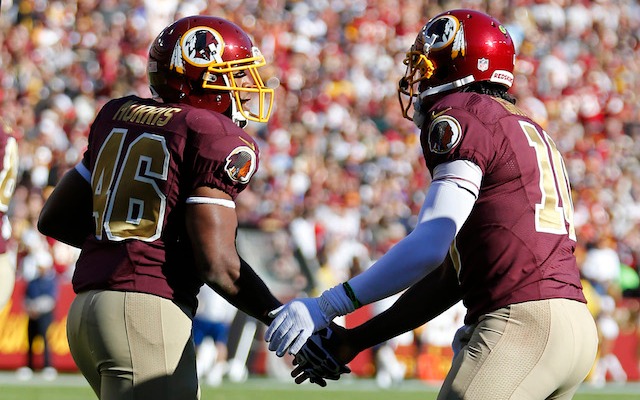 Robert Griffin III and DeSean Jackson might be the biggest names on the Redskins offense, but that doesn't mean they're the team's biggest offensive weapons. That honor belongs to running back Alfred Morris, at least according to RG3. 
The Redskins quarterback was asked this week who the team's biggest offensive weapon was and he said it's definitely Morris. 
"I think everyone would lean towards DeSean or Pierre [Garcon] or Jordan Reed. I think it's Alfred," Griffin told the team's official website.
Since his rookie year in 2012, Morris is one of only two running backs in the NFL -- along with Adrian Peterson -- who's rushed for over 2,850 yards.
"With him, defenses have to make a decision whether to puts guys in the box to stop him or leave the box light and allow Alfred to go between the tackles and lure in the safeties," RG3 said. "I think it will be interesting to see what defenses do against him."
If things go as planned, stopping Morris wont't be as easy as loading the box in 2014. The Redskins running back is hoping to become more versatile this season: He wants to start catching more passes. Morris just needs to build some confidence first. 
"I'm just building that trust with the quarterbacks and the coaches to get that confidence that I can catch it to be a viable option in the passing game," Morris said. "Even within myself, I'm building that confidence that I can handle the pressure of a third-and-five, and I'm running that choice route to win and catch the ball to keep us on the field."
Morris has ranked second and fourth overall in rushing yards during his two seasons in the league, but he's only caught a total of 20 passes and he's never made a touchdown catch.
"It comes down to confidence in myself, confidence of the coaches and quarterbacks in me," Morris said. "Just working hard, making sure I look the ball in before I catch it. I like to run before I secure the ball, but I just have to work on securing the ball before I run."
If Morris can't put it all together, it won't take much for him to top his best career receiving game. Morris' best game through air came in Week 13 last season when he caught three passes for 27 yards. 
The 32-year-old running back is done for the year

Brandon Williams was involved in a scary situation in the first half against Denver

The Broncos are turning back to Osweiler after an injury to Siemian
The Cowboys legend admits he's not on 'great' terms with the Cowboys suspended running bac...

Here's the latest information on injured Steelers linebacker Ryan Shazier

The Titans quarterback has had a frustrating season but maintains that's not an excuse for...