Rockies 1B Todd Helton calls Irsay an 'idiot' for Manning comments
Rockies first baseman Todd Helton, a good friend of Peyton Manning's called Jim Irsay an idiot for the recent comments Irsay made regarding Manning.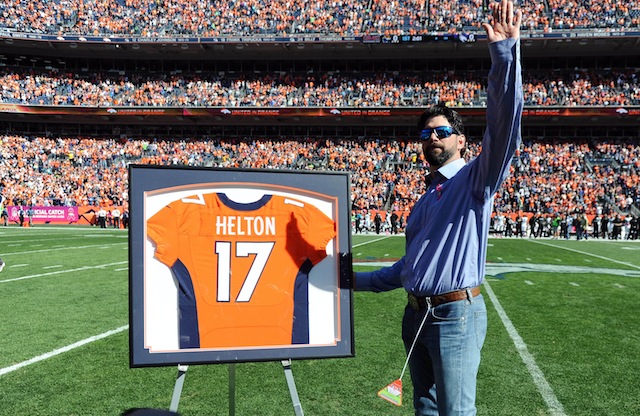 Broncos coach John Fox wasn't the only person in Denver bothered by Jim Irsay's comments regarding Peyton Manning. Recently retired Rockies first baseman Todd Helton wasn't thrilled with them either.
Earlier this week, Colts owner Jim Irsay defended his decision to dump Manning and basically said he was disappointed he only won one Super Bowl with Manning. Irsay felt the team should've won more. 
Helton, who's been friends with Manning since the mid-1990's when both were quarterbacks at the University of Tennessee, didn't take kindly to Irsay's remarks, "I have a real problem with that," Helton said, via the Denver Post. "I think he should shut his mouth personally. It's getting me a little riled up."
The Rockies first baseman doesn't just want Denver to beat the Colts now, he seems to want Manning and the Broncos to go for the jugular, "I hope he steps on their neck and doesn't let up," Helton said. "That's what I hope for, especially after that idiot, whatever you call him, spouting off his mouth."
Helton didn't stop with calling Irsay an idiot, he also called the Colts owner classless, "I think the guy, (Irsay) just wants to be famous, so he gets one little shot for somebody to know what his name is. To me, that's just classless," Helton said. "I hope Peyton goes back and steps on their throat."
If Manning's ever inducted into the Colts Ring of Honor -- and he most likely will be -- it could get a little awkward if Manning invites his good friend Helton and Helton runs into Irsay. 
Helton was with the Rockies for 17 years before retiring following the 2013 season. The Broncos honored Helton with a jersey prior to their 35-19 Week 6 win over Jacksonville. 
Plus the catch rule's still terrible, the Panthers quashing the Packers' hopes at playoffs...

Week 15 provided a lot of clarity to the NFL postseason

The Cowboys move to 8-6 and are still in the playoff race with two regular-season games to...
The Steelers lost to the Patriots in controversial fashion after the 'Calvin Johnson Rule'...

The Raiders lost on a bizarre final offensive play

Here are the Week 15 grades for every team that played Sunday