Rodney Harrison skeptical of Vikings QB Josh Freeman's concussion
Former Patriots safety Rodney Harrison doesn't believe Josh Freeman has a concussion. Harrison believes that Freeman is faking the concussion as an 'excuse to get out of a situation.'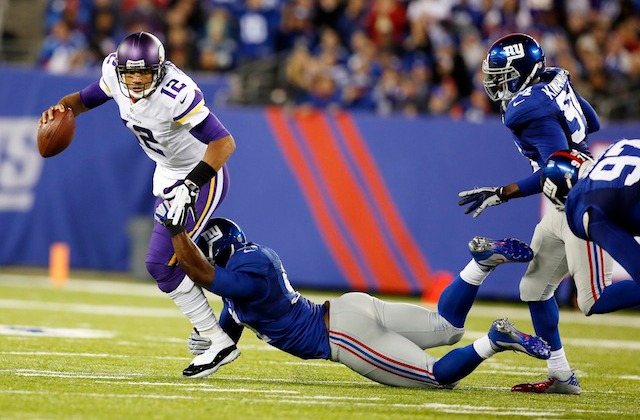 Vikings quarterback Josh Freeman won't play against the Green Bay Packers on Sunday because of a concussion he suffered in Minnesota's loss to the Giants on Monday night. However, not everyone's convinced Freeman has a concussion.
Former Patriot safety Rodney Harrison thinks Freeman might be faking it to get out of a bad situation in Minnesota.   
"I can't say that I believe he has a concussion," Harrison told NBC Sports Radio, via Awful Announcing. "I can't say that I'm 100 percent sold out. I'm not trying to doubt the seriousness of his injury if he has one, but it just seems like a convenient excuse to get out of a situation. That's what it seems like."
Freeman just signed with the Vikings on Oct. 7 and Harrison seems to think Freeman might be regretting signing with Minnesota.
"Maybe's he's looking around and saying, 'You know, maybe Greg Jennings isn't as good as I thought... Adrian Peterson is struggling. Heck I just want out of this situation, I can't wait for the end of the season,'" Harrison said. "I played safety at a high level for a long time and I was bangin' and I never missed a game because of a concussion so it just seems like an excuse to me."
The announcement of Freeman's concussion came out of nowhere on Wednesday. Just one day earlier, Vikings coach Leslie Frazier had announced that Freeman would be the team's starting quarterback against the Packers on Sunday. Now, Freeman won't even be suiting up for the game. 
Freeman's start against the Giants wasn't just bad, it was bad by historical standards. The fifth-year quaterback finished 20 of 53 for 193 yards and became only the fifth quarterback since 1960 to throw 50 or more passes in a game, but not reach the 200-yard mark. 
With Freeman out, Christian Ponder is expected to start for the Vikings. 
The Green Bay Packers quarterback seems to be a go for the Carolina Panthers game

Shazier's season might be over, but he still wants to help his team

The young head coach took the blame after a heartbreaking loss to the Eagles
Our computer model simulated every Week 15 NFL game 10,000 times with very surprising resu...

Britt is going from the worst team in football to a Super Bowl contender

With three weeks to go in the regular season, the MVP race is wide open