Roethlisberger destroying Flacco in Baltimore Sun head-to-head QB poll
Ben Roethlisberger is beating Joe Flacco in a poll rating the best quarterback. The weird thing: The poll is on the Baltimore Sun's website.
• 1 min read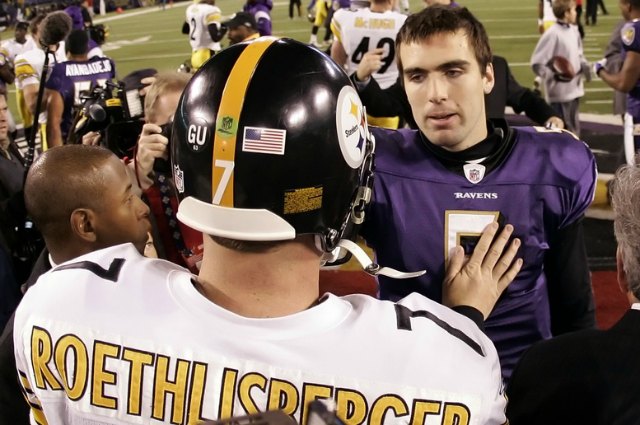 And now for something that makes absolutely no sense at first glance:
The Baltimore Sun has a poll on its website that asks who is the better quarterback: Baltimore's Joe Flacco or Pittsburgh's Ben Roethlisberger.
Considering Flacco is the reigning Super Bowl MVP, considering the Ravens and Steelers don't much like each other, and considering he plays in the city in which the paper resides, you'd think Flacco would be destroying Roethlisberger.
Remember this is the Baltimore Sun we're talking about.
Except, um …

So, what the heck is happening (as of 9:30 p.m. ET on Wednesday)?
Well, this Big Ben Facebook page is run by a trio of women who wrote this on the site, along with the link to the Sun poll.
I put this on my home page, but I am sharing it here as well! "Spread the word, fellow "Ben Roethlisberger" fans! The Baltimore Sun is doing its own unscientific poll to see if Flacco or Ben is the best QB.
So far it appears that Steelers fans have heeded their call, while Ravens fans haven't discovered what is most definitely an unscientific poll. Unless, that is, we all truly are in agreement that two Super Bowl titles is most definitely better than one.
Someone apparently threw a drink at Jefferson as he left the field and he was not happy about...

All of the best highlights from Week 14 are right here

Wentz suffered a knee injury while diving for the end zone
Lewis among several coaches on hot seat, Cam's amazing run, and more from Week 14 in the N...

Here are the Week 14 grades for every team that played Sunday

The legendary kicker added to his incredible career with a rare curveball XP