Roger Goodell getting fired? While unlikely, resignation is more realistic
Forget the noise about Roger Goodell getting fired by owners. The reality is there's a better chance he'd resign amid this madness.
• 1 min read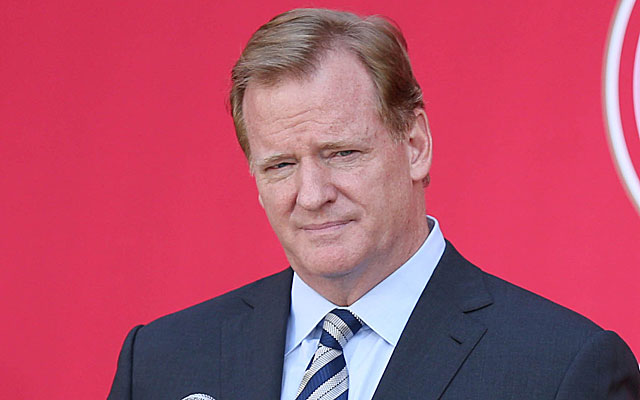 The public statements by NFL ownership groups continue to mirror what these owners are saying to one another and in private. Namely that their support of Roger Goodell, even in this time of great crisis, with the Ray Rice investigation launched, is firm, and few scenarios exist in which that would significantly change.
Numerous league sources who have had direct conversations with Goodell continue to say he never viewed the video of Rice striking his wife until it hit the Internet. Would that be proven to be untrue, or would Goodell be found to have actively cooperated in a cover-up by the investigation, ownership sources have said that would be cause for a termination vote. But, if anything, there is more concern among those at the top of NFL teams that Goodell himself might resign given the public backlash coming out against him.
Don't get me wrong: Goodell leaving his position is a remote possibility at best from what I gather. Additionally, he has told several confidants resigning is not something he'd entertain. But when compared to the notion of him getting fired by the owners, which is a non-starter barring overwhelmingly damning evidence emerging, it's seen as the more possible of the two.
"If anything, they're more concerned with Roger saying, '(forget) this,' and leaving than they are with having to relieve him of his duties," said one league source who has discussed the issue with multiple ownership groups.
While some in the media and the public have called for Goodell's ouster, it's not very likely. There has been no backlash from sponsors and Goodell's constituents -- the 32 that truly matter -- are in his corner. League sources anticipate this investigation ultimately having strong consequences for some in NFL Security and other corridors of the NFL office, but the odds of it reaching Goodell, based on what is known to this point, seem remote.
It had been rumored that the Jaguars might cut ties with Bortles, but instead he'll stay in...

Dez has struggled with injuries over the last few seasons

Cohen started last season red-hot before falling off dramatically but he has a ton of tale...
Beckham got injured during the 2017 preseason and then fractured his ankle after just four...

The Eagles were one of the most aggressive teams in the NFL in 2017, and it helped them win...

The ex-Dolphins offensive lineman was detained over a threatening social media post