Roger Goodell: NFL won't sell advertising space on uniforms
NFL Commissioner Roger Goodell said recently that the NFL will not be selling advertising space on team uniforms going forward.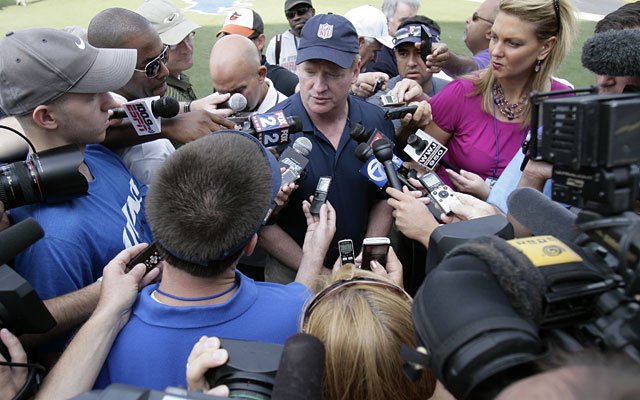 Goodell says no ads on NFL uniforms, and that's a good thing. (AP)
Most of Roger Goodell's time spent in Detroit with the media involved discussions about the Lions and their penchant for offseason trouble. But he was also asked about the notion of putting advertisements on teams' jerseys.
The NBA is already cashing in on the ridiculous idea of putting ads on uniforms in a desperate attempt to scramble for revenue. Thankfully, Goodell said, per Dave Birkett of the Detroit Free-Press, that the league had no such plan going forward.
"It's not something that's actively being considered in the NFL," Goodell said. "We like the look that we have on the field. We have a very limited number of partners on our field in general, much less on the uniform, and we think that's right for the NFL."
More importantly, the NFL has individual team brands that stand out much more than the NBA. That's not to say that fans don't care about teams in basketball; they clearly do. But it's the faces of various players that resonate with fans in the NBA. In the NFL, even for individuals, it's the uniform that stands out.
Slapping a "BING" patch on teams would dilute that brand severely and it's good that Goodell and the league recognize that.
Plus, it's not like NFL owners are desperately scrambling to increase their revenue -- the Browns just sold, and did so for reportedly more than $1 billion. NFL franchises are doing just fine without uglying up the uniforms for the sake of making an extra buck.
For more NFL news, rumors and analysis, follow @EyeOnNFL on Twitter, subscribe to our RSS Feed and subscribe to our Pick-6 Podcast and NFL newsletter. You can follow Will Brinson on Twitter here: @willbrinson.
Jeremy Lane also stood near Bennett along with pass rushers Cliff Avril and Frank Clark

Bennett also dedicated it to 'all of the other athletes using their platform to promote ch...

The Patriots quarterback shows commitment from Day One
Cardinals' running back says he's feeling more energized

The Vikings' receiver is wearing his heart on his foot

The Ravens need help on the offensive line after dealing with injuries and a surprise reti...