Roger Goodell on Richard Sherman rant: I'm not cheering for that
NFL commissioner Roger Goodell isn't a fan of what Richard Sherman did during his postgame interview after Seattle's NFC Championship Game win over the 49ers.
Seahawks cornerback Richard Sherman didn't make any new friends in the commissioner's office this week. Roger Goodell joined CBS This Morning on Thursday and he was asked about Sherman's postgame comments following Sunday's NFC Championship Game win.  
"It's an emotional game, and you see a young man who comes off the field and he's pumped up, and there's so much excitement in the stadium, but no, I'm not cheering for that," Goodell said. 
Apparently, Goodell's not a fan of trash-talking. The trash-talking all started in the aftermath of the NFC title game when Fox sideline reporter Erin Andrews asked Sherman what happened on the final play of the game, a play where Sherman forced a tip that resulted in a game-sealing interception.
"Well I'm the best corner in the game. When you try me with a sorry receiver like [Michael] Crabtree that's the result you're going to get," Sherman SCREAMED. "Don't you ever talk about me."
Andrews says she loved the postgame interview. Sherman was mic'd up for the game, so everyone got to hear exactly what happened between him and Crabtree that led to the postgame comments.
As for Goodell, although he didn't like Sherman's postgame actions, he seems to be an overall fan of the Seahawks cornerback. 
"He's a great young man, he's extremely well spoken, does great things off the field, obviously a great player on the field. I want him to present himself in the best possible way, and make sure that he's reflecting on himself and his family in a positive way," Goodell said. "He took away a little bit from the team. That was what he said [this week]. I thought that was a very interesting comment and I think it's fair." 
Like the rest of America, Goodell will now wait for Jan. 28. That's when Sherman will be given his own microphone and podium to answer any questions tossed his way at Super Bowl media day.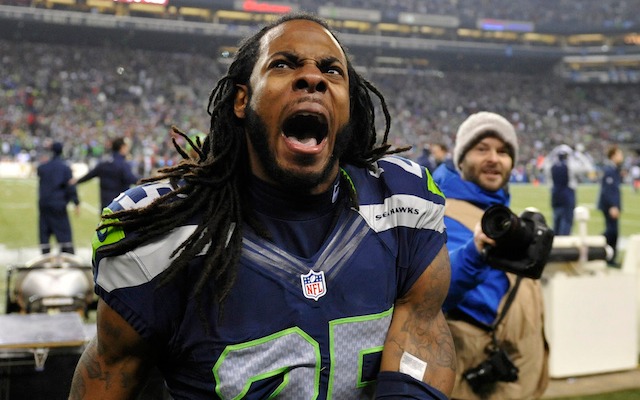 Follow along for Falcons-Steelers and Saints-Chargers, plus other updates from Sunday

The Cardinals rookie safety might have a career in break dancing when he's done with the N...

All signs point to Lynch, the former first-round pick, not beating out Siemian in Denver
The NFLPA executive director comes out out firing in a 'Real Sports' segment

Why didn't McCown, the presumed starter, play Saturday? The Jets don't want you to know

The Raiders duo had a great explanation for their decision to stand next to each other