Rookie passers won't be making much impact early in 2013
With Geno Smith and EJ Manuel dealing with injuries, don't expect any of the rookie quarterbacks from the 2013 NFL Draft class to make an impact.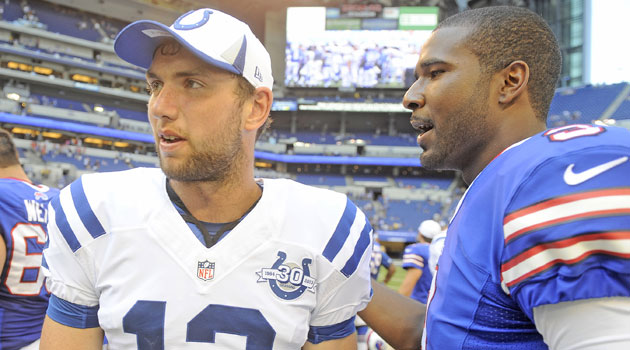 At some point in 2013 we'll probably see a lot of the rookie quarterbacks who were drafted in 2013. But the impact that those quarterbacks provide early on in the season appears, at this juncture in the preseason, to be extremely minimal.
We'll see starts from these rookies eventually, but expecting anyone to follow in the footsteps of Andrew Luck, Robert Griffin III and Russell Wilson is a fool's errand at this stage of the preseason. We never really expected that, of course, but it could be several weeks before we even see a rookie get the starting nod for anyone.
The biggest impact rookie starter, bar none, was set to be EJ Manuel of the Bills. But with the news that he's dealing with a knee injury and will have surgery on his knee (nice buried lede, Buffalo) there's no telling when Manuel will be back on the field. He's definitely going to miss the rest of the preseason, so when will the Bills front office throw him into the fray?
Week 1's not out of the question, of course, but if you're "evaluating" where Manuel stands once the preseason ends, it just sounds insane to lob him into starting action and risk further injury. Manuel's the future for a franchise that features a newly-hired head coach in Doug Marrone and a newly-installed GM in Doug Whaley. They want to win now but they're not beholden to going all in with their chips to win now.
Starting Manuel at home in Week 1 versus the Patriots or Week 2 versus the Panthers would probably be ideal from the perspective of putting Manuel in front of the fans. But Week 3 -- a divisional tilt at the Jets -- might make more sense for safety's sake.
Speaking of those Jets, they have the second-highest drafted quarterback in Geno Smith. But Geno's out of action for the Jets on Saturday, meaning Mark Sanchez has a chance to sew up the starting gig with a strong performance against the Jaguars on Saturday night. It's an ideal scenario for Sanchez and couldn't set up better for Rex Ryan (or worse for GM John Idzik, who blatantly wants his guy, Geno, to win the starting spot), but assuming Sanchez can have a strong performance just because he needs one will quickly make an ass out of you, me and everyone involved.
Regardless of how Sanchez performs, though, Geno's dealing with an ankle injury and doesn't have the chance to defend himself. He'll have one more real attempt in the third preseason game to claw his way above the headband on the depth chart and I'm betting that doesn't happen. Rex hasn't rigged the competition but he's definitely getting his way when it comes to who ends up winning it.
Once Sanchez wins the job (and he probably will) it'll be hard for Geno to wrest it away until the Jets ship is completely sunk. Barring injury, I'd suspect Week 7 at home against the Patriots is the earliest that could happen, and that might require a 1-5 record to be the case. If Sanchez can hold serve once the season gets going, it could definitely be until after the bye for Geno to get a start. Letting Sanchez become the sacrificial lamb might be the best thing, long term, for Smith, but that doesn't mean his immediate impact is any less disappointing.
Mike Glennon, as I noted in the preseason roundup Friday, looked impressive against the Patriots on Friday. He wasn't close to perfect by any means but it's largely irrelevant, as he was never going to steal Josh Freeman's job in training camp or the preseason.
That reality is clear now, but it didn't seem that way when the Buccaneers nabbed Glennon in the third round and we sat through a summer of Greg Schiano steadfastly refusing to endorse Freeman before realizing what a pain he'd created for himself by refusing to do so.
GM Mark Dominik obviously feels different about Freeman than Schiano does. With the clock on a contract year about to start for the 25-year-old, the Bucs need -- nay, have -- to find out whether or not he can be the full-blown future of the franchise. If Freeman blows up in 2013 Tampa has to find a way to pay him or at least tag him for another season (which should make this past summer look like a walk in the park comparatively). But if Freeman struggles -- Jets, Saints, Patriots, Cardinals isn't a walk in the park before Tampa's Week 5 bye -- and the Bucs aren't winning games, we could eventually see Glennon this year.
Tampa should have enough talent to remain competitive, even in a tough division, and that should mean any impact that Glennon has in 2013 will be minimal at best.
Matt Barkley, who freefell in the draft, was a semi-sleeper in the Eagles new scheme, but he's fallen to third on the depth chart in Philly behind Michael Vick and Nick Foles. It would take a difficult -- but not entirely impossible -- confluence of events for him to see the field early. (Think: Vick wins the job, Foles is cut, Vick gets hurt. Or Vick gets hurt, Foles gets hurt. Etc.) Otherwise we'll only see Barkley if and when things get ugly for the Eagles.
Ryan Nassib backs up Eli Manning. His impact will be felt after Eli's fourth neck surgery in 2020.
Tyler Wilson will not be the second-straight rookie quarterback named Wilson to ruin Matt Flynn's year. Despite throwing it well early in rookie minicamp, he's been completely overwhelmed as the Raiders third-string quarterback. Penn State product and UDFA Matt McGloin is ahead of Wilson on the depth chart. Things have gone seriously awry if you see Wilson early in the season.
One really, really, REALLY deep sleeper to watch for an early NFL impact? Brad Sorensen, the Chargers seventh round pick this year. He's third on the depth chart currently, but that offensive line is bad enough that both Philip Rivers and Charlie Whitehurst could be bulldozed into oblivion before the first quarter of the first game even comes to a close.
But even that would be crazy circumstances. Which, at this point, is what it will require for any of the quarterbacks in the 2013 NFL Draft class to actually make an impact.
The Eye on Football podcast brings you the best NFL analysis money doesn't have to buy. Subscribe on iTunes here!
The Eagles lose their franchise quarterback with the playoffs just weeks away

The Packers cornerback held Gordon to one catch on Sunday

Colin Kaepernick, Josh Johnson and Matt McGloin are among the bigger names available
The Rams and Titans look good nearly two full seasons after the Jared Goff trade. But who 'won'...

Also featuring Josh Gordon's 'hater blockas,' some FIFA-inspired celebrations and a hilarious...

The Steelers have struggled against the Patriots during the Belichick-Brady era