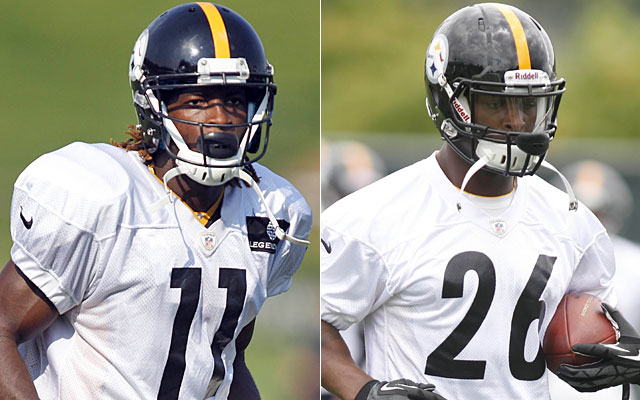 LATROBE, Pa. -- The demise of the Pittsburgh Steelers has been greatly exaggerated. Reinforcements are on the way via what could be a monumental 2013 draft class, and there is every reason to believe last year's .500 season will prove an anomaly, with this team returning to its norm of contending for a Super Bowl title.
People are a little spoiled in these parts. Despite making the playoffs in four of the past five years and reaching the title game as recently as 2010, this offseason has been filled with debates about whether the Steelers are too old to contend and whether they just might be stuck as the third-best team in the tough AFC North for a while. What seems to be all too easily forgotten, however is just what a tremendous job general manager Kevin Colbert and this front office do year in and year out, how expertly they have drafted and evaluated talent over time and how this franchise has not had consecutive seasons of eight wins or less since 1998-99.
"There's high expectations when you're a Pittsburgh Steeler," said defensive end Brett Keisel, entering his 12th season here. "That comes with the territory. We're used to being a tough team and last year was obviously very frustrating. But we're hoping to get back on top of things."
It says here they'll be back very soon.
Despite its age, the Steelers' defense still ranked first in the NFL last year in terms of yards (sixth in scoring defense). The team was 6-3 and riding a four-game winning streak before Ben Roethlisberger, on his way to what may have been his best season, suffered shoulder and rib injuries that more or less prevented him from playing/being effective for the duration of the season. And, yes, they bid farewell to former starters like James Harrison, Casey Hampton, Mike Wallace and Rashard Mendenhall, but are well positioned to be both better -- and in many cases younger -- despite it.
It takes a lot for a player to generate a stir in this franchise, one with six Lombardi trophies and a roster of players who routinely show up on All-Decade Teams and all-time top-100 lists. It takes even more when said players have yet to participate in anything more than a single preseason game, but this rookie class is already creating a pulse through this camp that this season won't be as disappointing as 2012.
"We had to get younger, because that's how we try to build this thing -- through the draft," Colbert said. "So we had to make the most of the opportunity. When you're picking 17th or 18th, as we did through the draft, you have the chance to get some good players. It's just trying to do our job and finding the right guys."
Specifically, linebacker Jarvis Jones (first round), running back Le'Veon Bell (second round) and receiver Markus Wheaton (third round) look like they will contribute immediately. They bring power and energy and speed to the team. Jones could be a disruptive edge presence, replacing Harrison opposite linebacker LaMarr Woodley. Bell should be a productive feature back. Wheaton's slot prowess allows Emmanuel Sanders to move back outside -- where he is more of a natural fit -- compensating for the loss of Wallace.
"They've been impressive," Keisel said. "Wheaton's been impressive. JJ has been impressive and Le'Veon has been tough, too. And we said that in OTAs we've got to have some young guys step in and play football the way we play ball, and those guys have looked good."
Jones is a top-10 talent, someone with the perfect attributes to fit Dick LeBeau's menacing 3-4 look. Many teams were scared off by a neck injury he suffered in college, but Steelers doctors were comfortable with him. At the combine, Colbert didn't even schedule a meeting, figuring there was no way the kid would be available when he picked. Then, when Jones ran a sluggish 4.9 40-yard dash at Georgia's pro day, Colbert immediately sought out Jones' agent, Joel Segal, knowing Jones had the ability to help create more sacks and turnovers, something lacking a year ago.
"I said, Joel, we've got to get him in for a visit, I think we're going to have a chance," Colbert said. "The rest of his workout was exceptional, he just didn't run fast. So the medical part we were comfortable with, but when we brought him we did more work just to make sure, and came away with the same feeling that [his neck] was never an issue for us. We're just very fortunate he fell to us where he did."
Bell was held out of the preseason opener while still recovering from a minor knee issue. He was elevated to the first team on the depth chart Wednesday, to the surprise of no one here who has watched him perform in OTAs or this camp. Pittsburgh couldn't keep a consistent running back in place a year ago, but coach Mike Tomlin has emphasized more zone techniques into the scheme. The Steelers averaged about five yards per carry against the Giants on Saturday despite not really even trying to throw the ball, and Bell has the combination of size and explosion to be dangerous.
"Do you play fantasy football?" one member of the staff here asked me. "Because if you do, you'd better take this kid by the late rounds."
At Tomlin's request, Bell dropped down to about 230 pounds, 20 pounds lighter than at times at Michigan State. Since Bell was a junior in 2012, the Steelers hadn't had a scout focus on him, so Colbert dispatched a set of eyes to track him in the Spartans' bowl game. They met with Bell at the combine and his pro day, spent time with Bell's mother and were as comfortable with the young man's makeup as they were his running ability.
"If he had a 1-yard hole, he could get 5 yards," Colbert said, "which is going to be the case a lot of times in the NFL."
Bell said: "I feel like in whatever role I'm given, I'll be able to succeed."
Bell figures to play this week against Washington and as long as he stays healthy, the Steelers should have no problem reigniting their ground game.
"Until these guys do it in a game -- running backs especially -- you feel a quiet enthusiasm," said offensive coordinator Todd Haley, now more comfortable in his second year at the helm. "But he's showing all good signs -- everything you want to see except for getting hurt, which is part of it too."
Wheaton missed all of the offseason, save for minicamp, due to a ridiculous NCAA rule preventing him from joining the Steelers until after college graduation (his school, Oregon State, is on the quarter system), but is pushing Jerricho Cotchery as the Steelers' No. 3 receiver in the slot. He has track speed and good hands and has been humble and eager -- anything but a diva (I wouldn't be surprised if the Steelers shopped Cotchery should Wheaton keep this up).
Asked where he preferred playing, slot or outside, Wheaton said, quietly and sincerely: "Just on the field."
To that end, he has also already fit in on some special teams units and is slated for a shot as a return man in Monday night's game at Washington.
"For a guy who missed the entire offseason except for the minicamp to never once feel like he was behind was amazing," Haley said, "especially playing inside. He's a smart guy, the kind of guy you like to have around. He has a great mentor in Jerricho, and he's doing a great job for us, and he showed up in the game, which was another great sign. So we're excited."
The Steelers also feel as if 2012 draft picks David DeCastro (guard) and Mike Adams (tackle), who barely played as rookies, are ready to solidify their perpetually shifting offensive line. Same goes for Marcus Gilbert, a third-year tackle who missed much of last season to injury as well. Adams is working now on the left side with Gilbert on the right, and All-Pro center Maurkice Pouncey already anchors the unit.
Defensively, they are old at safety, where you can usually survive it, and inside linebacker, where experience can be key in relaying information. Otherwise the transition is already afoot on that side of the ball, too. And on offense, only two starters are beyond their mid-20s.
"On offense, save for Ben and Health Miller, both at the 31 mark, everyone is under 27," Colbert said. "So if that line can come together, I think we'll be OK. The good news is they're young; the bad news is they're young, and they have to come together. So we'll see where that goes."
There's at least a decent chance it goes right back to the top of the AFC North.