Run the running backs: Bring back 300-carry workhorses
Riding top running backs has been declining since 2007, but pass defenses are ripe to be overrun. Here are some backs who should get 300 carries.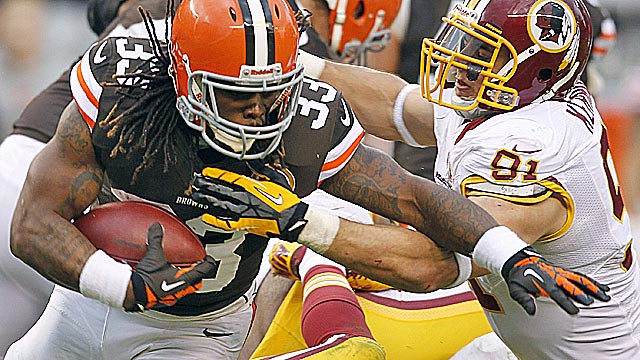 Something happened to the NFL attitude about running backs in 2007. Teams suddenly left the "bell cow" running back out of the game plans.
Before 2007 and dating back to the mid-1990s, there would be an average of 10-plus running backs in any given year with more than 300 carries. In 2003, there were 13 backs with more than 300.
Since 2006, the league has dropped to an average of five backs with 300-plus carries. In 2011, only two backs cracked the 300 mark. I think it's time that teams get back to putting the ball in the hands of the best back whom they have and take advantage of all the undersized pass defenses in the game today.
Consider how many young running backs will be starters this year. The five oldest backs by years of experience are Steven Jackson, Frank Gore, Reggie Bush, Maurice Jones-Drew and DeAngelo Williams. I could see why this group could be under the 300, but more than half the starting running backs in the league have five or fewer years of experience and really could handle bigger workloads. The trend in the NFL is to not extend big contracts to runners nearing their 30s.
Here's my list of running backs whom I would like to see crack the 300-carry mark this season and get NFL offenses back to the pre-2007 season style. I am not worrying about the top five on the list because they did it so well last year, but there's no reason most of the remaining men don't join the club.
1. Adrian Peterson , Minnesota Vikings : The best runner in the game will easily get his 300 carries as he looks for a second season over 2,000 yards.
2. Alfred Morris , Washington Redskins : Mike Shanahan gave Morris the ball 335 times last year as a rookie. He will feed him again, especially considering Moore was second in the NFL with 13 rushing touchdowns.
3. Marshawn Lynch , Seattle Seahawks : The only way that Pete Carroll doesn't feed Lynch another 31 carries is injury or an off-the-field issue.
4. Doug Martin , Tampa Bay Buccaneers : Martin had 319 carries last year as a rookie, and he will get more opportunities this year.
5. Arian Foster , Houston Texans : There's no secret in Houston about running the ball, and Foster is their clear-cut "bell cow." Foster might not lead the NFL in carries for the second straight year after 351 in 2012, but 300 is a given.
6. Stevan Ridley , New England Patriots : Ridley got close in 2012 with 290. But with the issues surrounding the Patriots' receivers, it's the right time to push him over the 300 mark, especially when you consider his 4.4 average and 11 rushing touchdowns last year.
7. Trent Richardson , Cleveland Browns : The Browns aren't ready to be a wide-open passing team, and Richardson is the kind of back who can handle a big workload. He had 11 touchdowns in 267 carries last year. I would like to see at least another 50 carries on top of the 267. Last year, Richardson had five games with 20+ carries and averaged 96 yards in those games. Time to have at least 10 games with 20+ carries
8. David Wilson , New York Giants : Wilson only had 71 carries as a rookie but scored four times and averaged 5.0 per carry. Ahmad Bradshaw and his 221 carries are gone, and all of that work should go to Wilson. If he gets 300 carries, he will be close to 1,500 yards and 12 touchdowns.
9. Chris Ivory , New York Jets : Here's a guy who has lived in the shadows of the Saints' offense and stable of running backs. Ivory has little wear and tear on his body. In his three-year career, he only has 278 carries, but he averaged more than five yards a carry and has 35 runs over 10 yards. New offensive coordinator Marty Mornhinweg loves to run the ball, and Ivory could explode with a 300-carry season. He could be the sleeper of Fantasy drafts.
10. Jamaal Charles , Kansas City Chiefs : Charles was close last year with 285 carries and had an impressive 5.29 yards-per-carry average. Staying healthy is an issue, and Andy Reid's love of the passing game is also a factor, but Charles has 124 runs over 10 yards in his career, stayed in Kansas City to work in the offseason and really could be a 1,700 yard back if he gets 300.
11. C.J. Spiller , Buffalo Bills : Spiller has been used lightly and worked with Fred Jackson, but it is time to work Spiller off what I saw last year. Spiller was fourth in the AFC in rushing with just 207 carries and averaged 6 yards a carry. To get to 300 carries only means six more runs a game.
12. Le'Veon Bell , Pittsburgh Steelers : Bell is the rookie with the best chance to get a heavy workload. Offensive coordinator Todd Haley is committed to running the ball, and the offensive line is shaping up to be a good run blocking group. It's a long shot that Bell gets 300 carries, but it is not out of the realm of possibility.
13. Chris Johnson , Tennessee Titans : There's no reason why C.J. doesn't return to the workload of 2009-10, when he had 674 carries, 3,370 yards and 24 touchdowns.
Finally, as one former head coach said to me this week at Lake Tahoe, "Too many coaches give lip service to the running game or believe all the carries have to be handled by a committee. If you have a great back, run him and run him again."
There are certainly enough good young backs to bring the running game and rushing touchdowns back into the game. In 2002, the top 10 running backs had 153 rushing touchdowns. Last year, the top 10 had 113 TDs.
Osweiler is being benched in favor of DeShone Kizer

Madden season is almost here again. Here's everything you need to know.

Rob Gronkowski, in an attempt to stay healthy, is turning over a new leaf in 2017
Cyrus Mehri says players have gone backward under Smith's leadership

Preseason Week 3 is go time -- jobs are won and depth charts are solidified

Jonah Keri talks football with NFL writer Lindsay Jones