Russell Wilson, Ciara join effort to bring MLB to Portland
Seattle Seahawks QB Russell Wilson and wife Ciara buy ownership stake in Portland Diamond Project and join effort to bring MLB to Portland.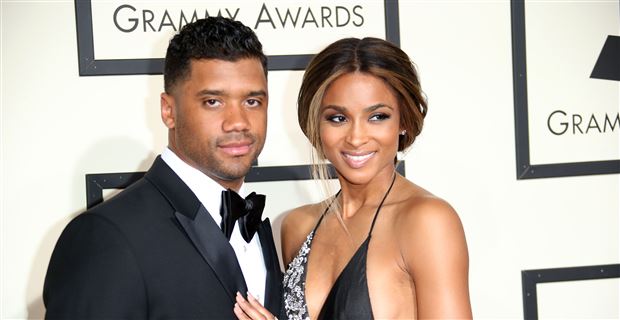 One of the NFL's biggest power couples in Seattle Seahawks quarterback Russell Wilson and superstar R&B artist Ciara are extending their reach yet again with another new venture. Not content to have their fingers in just media projects, countless charity efforts and bringing an NBA franchise back to Seattle, they're taking their considerable resources to a major project outside the city of Seattle but within the friendly confines of the Pacific Northwest.
On Friday, the Wilsons announced they've bought into the Portland Diamond Project. According to the project's website, the group of investors -- founded and headed by former Nike executive Craig Cheek -- is seeking to bring Major League Baseball and a new stadium to Portland, Oregon by "listening to business and community leaders, building great partnerships and working together."
They believe bringing baseball to Portland will aid in employment and investment in the area, enhance the city and foster housing growth around the ballpark along with improving the city's baseball history. Although the city has had various professional teams, it has never been a part of the MLB. Wilson's excited to join the effort to be the first.
"A new team is on the horizon. Today I am honored to announce that Ciara and I are part owners of the Diamond Project; we're aiming to bring a Major League Baseball team to Portland," he said in his announcement on TraceMe.com. "A place sports fanatics get excited about, headquarters to a brand athletes of all kind rep, Nike, and a center where a new stadium is about to stand tall. As owners, investors, and partners in this incredible opportunity, we plan to change the game of baseball and impact the lives of kids everywhere."
Wilson's love for baseball illuminated his announcement. He spoke of teaching his stepson Future the game of baseball and the joy that he's already feeling by passing the game down to him. He spoke of memories of his parents taking him to baseball games as a child and rushing to the dugout to try to get a baseball signed. And he spoke of revitalizing the game in the inner city and restocking baseball with African-American talent.
"One of our passions is also to teach and help inner city kids all over the country and all of the world," he continued. "Currently, there are only 68 African Americans in pro baseball. 68! With this project, we will make sure that every little kid in this country has the opportunity to learn the lessons of sportsmanship and competition. No matter their skin color or economic status every kid deserves to have an equal opportunity and the resources it takes to play."
(The Seahawks are now fitting their new pieces into specific roles. Don't MISS any updates. Stay informed right along with us -- take five seconds to Sign up for our Free Seahawks newsletter now!)
Of course, Wilson himself grew up playing baseball and was even drafted into the MLB but ultimately chose to pursue his quarterbacking career. Still, he has appeared at spring training on a few occasions. Most recently, he fulfilled his dream of playing for the New York Yankees this spring and even took a spring training at-bat but struck out swinging. Wilson's passion for baseball is undeniable. 
And, the Portland Diamond Project is excited to have the Wilson's on board as well.
"Honored and excited to welcome Russell Wilson and Ciara as owner/investors in Portland Diamond Project. Looking forward to working together to make MLB in Portland a reality," they said via social media.
Portland has been apart of two failed attempts to bring the MLB to their area in the past. In 2003, despite commissioning the funds to build a stadium in the city, the Montreal Expos moved to Washington D.C. instead and became the Washington Nationals, scuttling Portland's plan. The idea was rehashed again in 2006 to try to lure the Florida Marlins out of Miami, using the same funds to build a new stadium but the Marlins stayed put.
Now, the Portland Diamond Project is trying to finally seal the deal by bringing an expansion MLB team to the area and have a plan for a new city with three possible sites picked out already. They submitted formal proposals to the city to purchase a site either at Portland Public School headquarters or an industrial site in the Northwest part of the city. And they're also inquiring about a third site located at the Port of Portland, according to Willamette Week.
With the Wilsons' money and passion on board along with Nike's stake in growing the Oregon sports community, Portland may finally see the MLB in their town sooner rather than latter.
Pick Six Newsletter
Get the day's big stories + fun stuff you love like mock drafts, picks and power rankings.
Please check the opt-in box to acknowledge that you would like to subscribe.
Thanks for signing up!
Keep an eye on your inbox for the latest sports news.
Sorry!
There was an error processing your subscription.
Zach Ertz gives two reasons why the USWNT blowout win over Thailand wasn't bad for soccer

The Patriots coach is apparently a ruthless paintball player

Russell Wilson and Aaron Rodgers made a lot of money over the past 12 months
The Patriots quarterback really loves football

The former Cowboys receiver has some contract negotiation advice for his old team

The Browns have enough talent to reach the Super Bowl, but will have to manage expectation...