Russell Wilson joins Texas Rangers at spring training
Russell Wilson joins the Texas Rangers at spring training this week.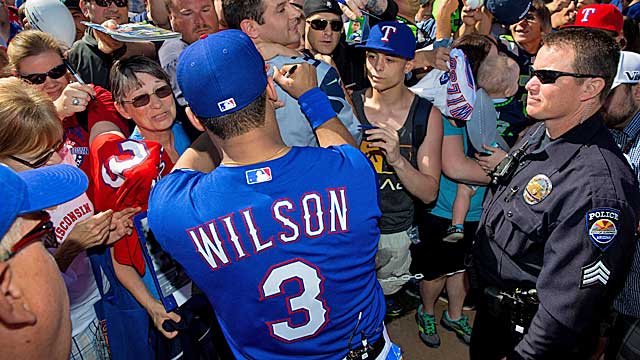 More MLB: Spring training | Free agency tracker | Latest news & notes
Russell Wilson's plan to take over the world (or at least own a professional sports team) is going pretty well. He's made his mark in the NFL -- that's what happens when you win a Super Bowl with the Seahawks -- and now he's officially creeping into the world of MLB.
When Wilson was drafted by the Rangers in the recent Rule 5 draft, it looked like a strong publicity play by Texas.
Turns out, we had no idea. Wilson blew up as a Super Bowl champ since the draft and has been talking about his work with the Rangers pretty frequently. And now it's time for spring training.
If Russell wasn't as athletically gifted as he was, he'd probably be President already. Or the president of some big brand. The dude gets how to market himself.
In terms of ROI, this is going to end up being the best draft pick the Rangers ever made.
Patriots QB's ring, given to one of his friends/family members, was auctioned off to an anonymous...

If the Redskins get petty, Cousins will try and get his vengeance through a grievance

The Dolphins also donated $100,000 to the victims' fund after the school shooting that killed...
The Cardinals GM explains his process for finding Carson Palmer's successor

Stefen Wisniewski narrowly missed out on a chance to earn $250K, but the Eagles gave it to...

Shazier heads into the Steelers' facility every day and helps with 'personnel stuff'