Russell Wilson's dating life is making life hard for Seahawks' team DJ
Russell Wilson's dating life has made the 2015 season slightly more difficult for the Seahawks team DJ.
Before 2015, being the Seahawks DJ wasn't that complicated: Players or coaches would request a song they wanted to hear, then DJ DV One would play it for them.
The DJ also sets up playlists that everyone on the team can listen to.
Unfortunately for DV One though, things aren't as easy this year thanks to the fact that Seahawks quarterback Russell Wilson is dating Ciara.
Wilson's relationship with Ciara complicates things because a lot of players want to hear songs by Future, but the DJ doesn't like to play them because not only does Future have a kid with Ciara, he used to be engaged to the Grammy winner.  
In an interview with Billboard Magazine this week, DJ DV One explained his problem.  
"Among the players, last year it was Drake and Rick Ross [they wanted to listen to]," the DJ said. "This year, I've been getting a lot of requests for Future. But that dynamic is weird too, because I can barely play Future with Ciara running around and that's her baby's dad."
Wilson might want to have a talk with his teammates because apparently, they really want to hear Future. 
"It's just that he has a dope-ass album out right now, players like to hear it," the DJ said. "It definitely gets you pumped up -- even though it's low-tempo, it's still stuff that you want to hear -- and then you've got Ciara running up with little baby Future and she's dating Russell so it's like, 'Oh [crap].'"
That's not DV One's only problem: The DJ also doesn't like to play Ciara's songs at CenturyLink Field anymore. 
"I also feel weird playing Ciara, because I was playing Ciara before she started dating Russell," the DJ said. "I'd play 'Goodies' and stuff like that for the crowd because it's mainstream -- it's dance-y music, it's popular, it's stuff that you can get away with playing. Now that she's dating Russell, I don't want people to be like, 'He's just playing that because she's dating Russell.'"
Anyway, if you're at a Seahawks game this season and you don't hear any Future or Ciara songs, now you know why.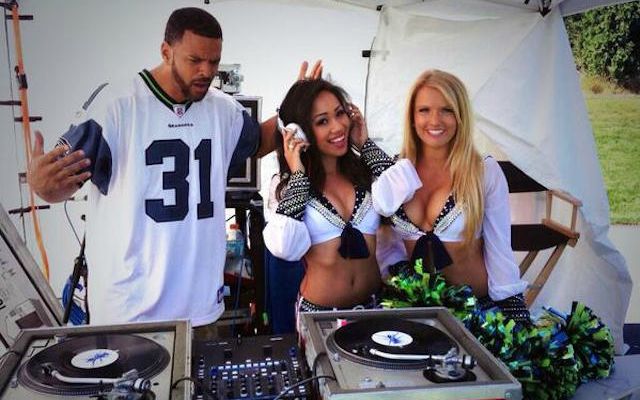 It had been rumored that the Jaguars might cut ties with Bortles, but instead he'll stay in...

Dez has struggled with injuries over the last few seasons

Cohen started last season red-hot before falling off dramatically but he has a ton of tale...
Beckham got injured during the 2017 preseason and then fractured his ankle after just four...

The Eagles were one of the most aggressive teams in the NFL in 2017, and it helped them win...

The ex-Dolphins offensive lineman was detained over a threatening social media post