Russell Wilson's Super Bowl secret: He took a shower at halftime
Showering at halftime might catch on the NFL now that Russell Wilson's secret is out. Wilson says the shower 'restarted' him.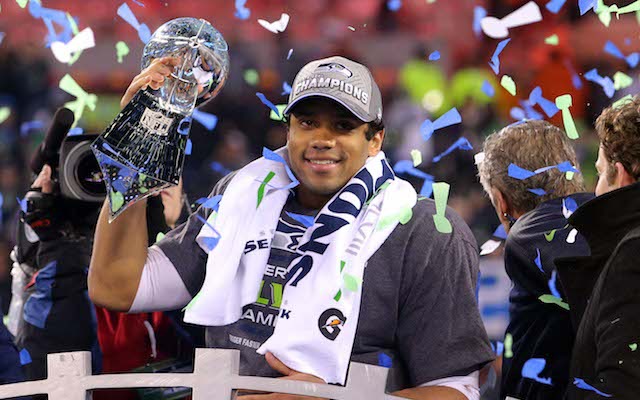 If you thought Seahawks quarterback Russell Wilson looked refreshed in the second half of the Super Bowl, it's because he was refreshed. Clean and refreshed to be exact.
With Bruno Mars and the Red Hot Chili Peppers playing at halftime during the Super Bowl, Wilson had some extra time at the half, so he decided to use that extra time to shower. It was probably a pretty relaxing shower because the Seahawks were leading the Broncos 22-0 at that point. 
"This is what I did at halftime, and a lot guys did too: I took my whole uniform off and took a shower," Wilson told the Dan Patrick Show on Tuesday. "Halftime is about 45 minutes so I took a shower, re-taped everything, got my arm stretched again and then we got into a whole other stretch again."
Wilson finished the first half 9 of 14 for 94 yards and no touchdowns, but after the halftime shower, his numbers got better. "That kind of restarted our minds again," Wilson said. "So we came out of halftime, it felt like it was a brand new game. So that's why I think we played so well and everyone was just clicking on all cylinders and we played a great football game."
In the second half, Wilson went 9 of 11 for 114 yards and two touchdowns.
Some shampoo company should probably sign Wilson up now because showers are apparently his thing. Wilson also took a shower in Week 2 against San Francisco when the game was delayed almost an hour by weather in the first quarter.
In that game, Wilson was 0 for 6 with an interception before the delay. After the delay and the shower, Wilson went 8 of 13 for 142 yards and a touchdown in the Seahawks 29-3 win. "I showered to kind of restart my mind, restart everything. Really get out and feel it's a new game," Wilson told the Seattle Times in September. 
Richard Sherman also credited the halftime shower for Wilson's improvement in that Week 2 game. "He came out during the break, he came out with a shower and he looked like a bad man," Sherman said. "I knew he was on it."
Wilson isn't just opening doors for short quarterbacks anymore, he's also pioneering the 'shower at halftime' strategy, a strategy that's working.     
It sure looks like the former top pick will be benched heading into the regular season for...

Someone asked him to start the press conference of course

Derrick Johnson wants to discuss players' First Amendment rights amidst the protests
High praise from one of the most athletically gifted quarterbacks ever to step on a football...

Nobody will mistake Joe Looney for his star teammates

Osweiler is being benched in favor of DeShone Kizer