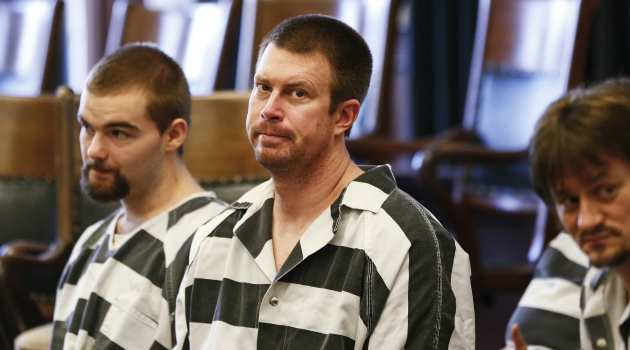 Ryan Leaf could remain in Montana's custody for the next five years. (US Presswire)
Ryan Leaf has not had a great 2012.
In late March,
he was arrested
on charges of felony burglary, misdemeanor theft and criminal possession of dangerous drugs. After he posted a $76,000 bond,
he was arrested two days later
(!)  on charges of burglary, theft and two counts of criminal possession of drug charges.
It can't be easy to proclaim your innocence when you get hit with similar charges in a 48-hour span, and as such, the former No. 2 draft pick has pleaded guilty to felony drug possession and burglary charges.
That's according to the
Great Falls (Mont.) Tribune
, which also reports that, in exchange for his plea, the prosecution dropped two more burglary counts and an extra drug possession charge.
Although the judge doesn't have to accept the terms of his guilty plea, Leaf will now have to spend five years in the custody of the Montana department of corrections. He will have to spend nine months in a drug treatment facility and then another six months in a pre-release center. Then, any time after that, the rest of Leaf's sentence could be suspended.
More detail on Leaf's court appearance earlier this week from the paper:

Dressed in a black and white prison jumpsuit and shackled with handcuffs and ankle restraints, Leaf took the stand in court today and went through the facts of the case with [his attorney, Kenneth] Olson. Leaf admitted to breaking into a mobile home north of Great Falls on April 1 and to being in possession of oxycodone a few days before then that did not belong to him.

Leaf kept the answers to Olson's questions brief, mostly answering "yes" or "no." He did say more when asked about the prospect of receiving supervised drug treatment as part of his sentence.

"I'm very much looking forward to that opportunity," Leaf said. "An intensive nine months in a rehab facility is what's presently needed at this point."
That's not necessarily all for Leaf, though. He also was on probation from Randall County, Tx., and once he's finished serving his time in Montana, he might face additional punishment from Texas.
For more NFL news, rumors and analysis, follow @EyeOnNFL on Twitter, and subscribe to our Pick-6 Podcast and NFL newsletter. You can follow Josh Katzowitz on Twitter here: @joshkatzowitz.