Ryan Switzer examines abrupt divorce from Cowboys
In his first-and-only interview with Cowboys' media following the trade, Switzer reveals all.
• 14 min read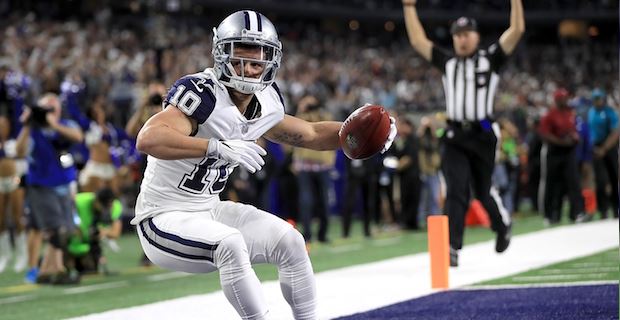 "Great men are not born great. They grow great." - Mario Puzo, 'The Godfather'      
Truer words have never been spoken, and it's a reality Ryan Switzer must now confront head-on. The newest acquisition of the Oakland Raiders, the second-year wide receiver now knows exactly what the business side of the NFL looks like, albeit learning the hard lesson far sooner than most do and many expected he would have to. One day he's training to level up a promising career with a Dallas Cowboys' team who selected him with the 133rd-overall in 2017, and the next he's packing his bags en route to take up residence in the Bay Area. It's not the first time this offseason both sides have swapped players in one way or another, but this was by far the most unexpected.
On the back end of the NFL Draft, the Cowboys sent Switzer to the Raiders for defensive tackle Jihad Ward -- a move driven by the former striking a deal with the Los Angeles Rams not long before, grabbing wideout Tavon Austin in exchange for a sixth-round pick (192).
[READ: Cowboys trade Ryan Switzer to Oakland Raiders during NFL Draft]
This makes it clear the Cowboys were effectively ready to pull the trigger on moving Switzer prior to landing Austin with his former collegiate rival, running back Nyheim Hines (North Carolina State), set to be their first pick on Day Three. Hines would be scooped by the Indianapolis Colts far ahead of the Cowboys going on the clock, forcing the aforementioned dominoes to fall. It took Switzer a moment, or several, to absorb what had happened after getting the official call from the front office in Frisco, TX, but he now sounds hungrier than ever to prove he's not simply a stellar returner -- but also a threat at wide receiver, as evidenced in his historic run in Chapel Hill.
Speaking in an exclusive interview with Patrik Walker of 247Sports, his first with Cowboys' media since news broke of the trade, Switzer is still harboring some confusion as to why he was shipped out but wants to use it all as motivation going forward.
PW: I have no doubt the news of your trade caught you off-guard. Tell me where you were when you got the call, who delivered the message and what was your first reaction to the move.

Switzer: I had just left the facility, actually. I had gotten a workout in earlier and when they called me, my wife and I were on our way to the mall, actually. We were pulling out of our neighborhood and coach [Jason] Garrett called me and I kind of had already known at that point, but he put [Cowboys' owner Jerry Jones] on the phone. You know Jerry just kind of explaining what was going on, that they had someone that they wanted and Oakland had called and inquiry about me -- so Jerry talked to me for a little bit and coach Garrett was put back on the phone and that's pretty much it. My wife and I turned around, went back to the house and processed everything that had happened.

PW: Did it feel like a gut punch when you got the news from from Jason [Garrett] and Jerry Jones?

Switzer: Oh, no question it did. You know just because of the preparation that I had been putting in up to this point to be as successful as I could with Dallas. And you know I'm a young kid [so] I've never been traded before, obviously, [and] never had anything like this happen. It was just all new to me, you know, but at the end of the day you know I realized the work that I put in isn't [going] to waste. It's just going to be for another team now. I know the work that I've put in will, regardless of me being traded or not, make me a better player. It is what it is now. I understand that the NFL is a business. It's the career that I've chosen and I've got to take everything that comes with it, good and bad.

PW: Dallas grabbed you in the fourth round hoping your dominance with the Tar Heels would translate to the NFL. It definitely did and, in the return game, you became one of the best in the league. What do you think went wrong that caused the Cowboys to trade away what ultimately became one of their best weapons in 2017, though?

Switzer: I don't know. That's something I'm still kind of pondering. The more I think on it, I think that they had a different plan for me than what I was capable of doing. I don't know. Looking back I had two or three rushes in the NFL before receptions and I was taking reps at running back at times. I don't know if they were trying to use me as like a scat-back or what. There was a lot of talk about my high school days and being a RB and I don't think I ever fit that mold as a change-of-pace back or someone with slide sweeps and carries. I don't know if that's the plan they had for me [because] it was never spoken, but when I try to piece these things together -- that's kind of what I'm thinking. ...I think that had a little bit to do with it because I can't really think of anything else. ...I did, like coach Garrett [told] me, I did everything [asked of me] and more. I felt like that, too. I'm not really sure. That's about as good of a guess as I have.

PW: What do you think, from your end, you could've done better your rookie season that might've swayed their decision -- if anything?

Switzer: [Laughs] Honestly, man. I don't know. I did everything I could. I was one of those "get there early, stay late" [players]. You know I had great practices. When I got my opportunity at the end of the year against Philly, I produced. I never really knew what they were going to do with [Cole Beasley] and I. ...I guess if anything, I wish I could take back the hamstring injury that I got at the beginning of camp, but those are things that you can't control. I thought I bounced back well from that. I thought I was still prepared at the beginning of the season, so you know it's just one of those things where it's just something that just happened. From my end, I think I controlled what I could control and I thought I put in the time and the energy needed to have a successful year. I'm satisfied with what I did on my end.

PW: You're reuniting with former Cowboys' special teams coordinator Rich Bisaccia in Oakland. That makes for an easy transition on the special teams front, one you aced your rookie year. The Cowboys couldn't figure out how to use your proficiency as a wideout to their advantage though, so now having practiced with the Raiders and met with coaches and quarterback Derek Carr -- how confident are you things will be different on the offensive front in The Black Hole?

Switzer: Yeah, I am confident and I'm confident because [the Raiders] came and got me. They wanted me. Coach Bisaccia and obviously coach [Jon] Gruden see something in me. I'm confident because I know what I bring to the table. I know how successful I can be in this league as the receiver and just being one week with these guys and the offense with [Derek Carr], I feel a lot more confident from an offensive standpoint going into this year with Oakland. I'm just excited about that. I'm excited about the opportunity to learn from coach Gruden. I'm excited about the opportunity to play with guys like [wide receiver] Jordy Nelson, Amari Cooper and Martavis [Bryant] coming over from Pittsburgh. I think it's going to be a really deep receiving unit and, ultimately, I think we're going to have a lot of success.

PW: You had an interesting hashtag in one of your recent tweets, where you said "bet the house on me". You were already training passionately this offseason to become a true multi-threat weapon for the Cowboys, but it sounds like the unexpected trade put an even bigger chip on your shoulder, as it would any player in your situation. Tell me, and the NFL, what that hashtag truly means to you and what opposing defenses can expect to see in 2018.

Switzer: It means just that. It means the confidence that I have in myself from a talent standpoint and from a preparation standpoint, I feel like I've trained as hard as I possibly could the last three months leading up to OTA's to be in the best shape and to be the best Ryan Switzer I can be. I've always played with a chip on my shoulder but I never had anything like this happen, where I just felt disrespected. It's not something that's going to weigh me down and create a negative. I feel more so that it's going to be something that propels me and not that I needed any external motivation, but this is kind of nice. I gave my all to Dallas. I gave everything I had to the organization and I plan on doing the same thing in Oakland. Any day of the week no matter what I play [and] no matter what I do, I would bet the house on me. I'm really excited to be somewhere I'm wanted, to start a new chapter and to see where this year and the next couple years take me.

PW: What is your single biggest regret and what are you most thankful for regarding your time with the Cowboys?

Switzer: You know, I don't want to say like there's nothing that could've been done differently, but I think "regret" is a strong word. I think, honestly, I really do think I maximized every potential resource that was given to me in Dallas and I feel like as much as I learned and as much as I grew as a player and person and just one year in the NFL -- I don't really have any regrets. Like I said earlier, I gave everything to that organization for 17 weeks during the season. I think I can be at peace knowing this decision wasn't based on anything I did and sometimes things just don't work out. I do believe God doesn't mistakes so there must be something better out there for me if I have to move on. As far as the second half of that question, I feel like the relationships I formed in Dallas with some of the guys like Noah Brown, Lance Lenoir, Dak Prescott, Anthony Brown, Taco [Charlton], etc. -- that's something that, when this football is over, those relationships are always going to be there. That's something I'm glad I formed in Dallas in such a short time, in just one year. It's something that I'll miss, being around those guys that I mentioned every day, but I know some of the same relationships can be formed in Oakland and I'm looking forward to seeing where that goes.
The high school days Switzer references saw him also contribute touchdowns as a halfback, but that all changed when he showed his prowess as a dynamic wideout for the Tar Heels.
In 51 games with the Heels, the native of Charleston, WV registered only 82 total rushing yards on 25 carries with zero touchdowns. Contrarily, he broke UNC records in receiving, reeling in 2,903 yards on 243 receptions (11.9 ypc) with 19 touchdowns and had the lowest drop percentage in the NCAA in 2016. It's clear the Cowboys sought to shoehorn him into the role left behind by Lance Dunbar but there wasn't an indication Switzer would succeed in such a scheme, and ignoring his college film to focus on what he (barely) achieved as a RB at George Washington High wasn't exactly setting him up to win at the NFL level.
In dire need of a returner who could change the scope of games following the ineptitude and ultimate dismissal of controversial wideout Lucky Whitehead, there was some credence in grabbing Switzer following losing Donnel Pumphrey to the Philadelphia Eagles just one pick before the Cowboys went on the clock with the very next selection. Pumphrey went on to begin the 2017 season as the fourth-string RB and failed to log a single snap following a torn hamstring that landed him on injured reserve.
It was an ironic turn of events that ultimately saw the Cowboys win the fourth round by settling for a player who would immediately become responsible for redefining the field position game in a way not seen since Dwayne Harris departed for the New York Giants in 2015, while the Eagles still wait to see what they truly have in a player they stole from the Cowboys at the last second in the draft one year ago.
Switzer had the second-highest return average (26.0 ypa) going into Week 14 and finished the year being named to the PFWA All-Rookie Team.
[READ: Cowboys assign former Ryan Switzer number to Tavon Austin]
His sprinter-level speed is easily on full display when special teams is on the field but also when he's asked to contribute to the offense. The Cowboys rarely did the latter, given the fact he had only two targets as a receiver leading into Week 17. And when they were blown out in three consecutive games, failing to muster a paltry 10 points? Switzer was on the field for only 12 snaps offensively and Scott Linehan didn't call his number a single time as a wideout, but did call one run play for him in the 28-6 loss versus the Los Angeles Chargers in Week 11 that ended with the defender leveling the 5-foot-8 speedster -- resulting in a loss of four yards.
It's now clear it wasn't only due to Switzer's noted inability to become the running back he never truly was anyway, but also because his proficiency and dynamic ability as a receiver was outright ignored. On a team that has done more damage to the career of players with position flex than they've improved, examples of both being quite evident recently, Switzer was simply another player whom they hoped would become the latter before they realized he may wind up becoming the former.
With Austin now predicted to play the scat-back role, the Cowboys are hoping the veteran can become what Switzer isn't designed to be. In his five-year NFL career, Austin has rushed for 1,238 yards on 184 carries with nine touchdowns. He delivered 270 of those yards and a touchdown in 2017 alone, making him a much more viable option for the Dunbar-esque role going forward, so as much as it stings Switzer to suffer a blindside punch from the team he had high hopes of proving himself for -- it could be the best thing to happen for his career.
**Are you a Cowboys fan on the ledge after Dez Bryant and Jason Witten left? Don't worry: Patrik Walker of 247 Sports joined Will Brinson on the Pick Six Podcast to explain why it's all good in Dallas. Want a 30-minutes-ish, daily dose of football in your podcast app inbox by 6 a.m. to get you through that commute or gym trip? Subscribe: via iTunes | via Stitcher | via TuneIn | via Google Play**
It appears the Raiders are looking for an actual wide receiver in Switzer, which isn't what the Cowboys drafted him to be. With potential to be heir to Cole Beasley, who is entering the final year of his contract with Dallas, trading Switzer for a rotational piece in Ward fails to solve their need of a starting 1-tech while re-opening a gaping void behind Beasley; who they may not have beyond 2018, depending on several variables that include looming contract talks.
They may have a plan for it all but if the recent mishandling of Dez Bryant, regardless of if you agree with the release or not, combine with the curious move on Switzer -- amongst other things -- to make for an exceptionally foggy blueprint. Time will tell if decisions like this are making the team better or worse but for his part, Switzer is all-in on proving the Cowboys made a mistake. 
In the end, both sides may find "growing great" requires your map flying out the window en route to your intended destination. Switzer will soon be on the move again as the Raiders prepare to relocate to Las Vegas, and that's a fitting plot twist considering he just told you where to place your bets.
Pick Six Newsletter
Get the day's big stories + fun stuff you love like mock drafts, picks and power rankings.
Please check the opt-in box to acknowledge that you would like to subscribe.
Thanks for signing up!
Keep an eye on your inbox for the latest sports news.
Sorry!
There was an error processing your subscription.

Join our Free $1,000,000 Parlay Challenge
SportsLine's computer model simulated every Week 7 NFL game 10,000 times with surprising results.

The NFL does not like it when you rip the officials

Find out everything you need to know about the final injury reports for everyone playing in...
The Cowboys coaching job isn't currently open, but they already have a pretty qualified candidate

Brady addressed his cameo, which shows him coming out of a day spa, on Saturday

The NFL is back for Week 7, and CBSSports.com and SportsLine are breaking down every single...
The Packers got off to an awful start, but had the final say in Green Bay

Hodges didn't need to do much as his teammates gave him plenty of help